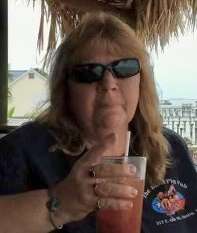 Darlene Elizabeth Olds (67) of Texas City, TX passed away on Wednesday, 12/28/2022. She was born on 1/29/1955 in Groton, CT.
Darlene was a resident of Texas City for over 35 years. She retired from American National of 23 years. She enjoyed spending time with her husband, children, grandchildren, great grandchildren, and her fur babies.
Darlene is preceded in death by her parents; Agnes Maynard and Elmer Maynard, great grandson; Ander Jase Brown, siblings; Laurie Mckamey, Dennis Maynard, and Karen Erickson.
Darlene is survived by her husband; Gary McDonald Olds of 50 years (together 53 years), son Danny Olds; daughter and husband; Brandi and Chris Stritz, grandchildren; Lindsey Brown, Tristen Brown, Riley Jensen and Christopher Stritz, great grandsons; Aven and Alden Brown, sister, Bonnie DeSouza.
Per Darlene's wishes, there will not be any public services. There will be a Celebration of Life held with her immediate family.
Arrangements are under the Care of James Crowder Funeral Home, La Marque, Texas.