Daniel Joseph Gilligan Sr.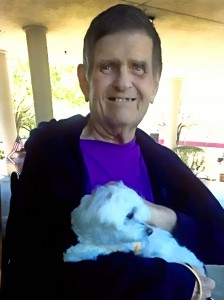 Daniel Joseph Gilligan Sr. passed away peacefully in the early hours of April 24th 2016 due to natural causes at Regent Care Center in League City, TX. Daniel was 73 years old.
Daniel J. Gilligan was born in Brooklyn, NY on August 17th, 1942. He was the fourth son to William & Dorothy, née Cleary Gilligan
Daniel met his future wife Carol at a church social at Cresthaven Country Club in Whitestone, NY and shortly thereafter Daniel was married to Carol A. Gilligan and had two children, Daniel and Patrick.
After they were married, Daniel and Carol moved to Florida, NY to start a family and build their first home together. Before having children Daniel was a wonderful role model for the neighborhood kids as well as his nieces and nephews. He was a born father and often played ball and went fishing with the younger generation.
Daniel's nephew John Gilligan shared that Daniel showed him what it meant to be an uncle. Daniel was always taking John and his brother out on some adventure when they were young. Whether it was fishing (and catching very few fish), apple picking, or just visiting with distant relatives in the Greenwood Lake region of NY/NJ. He was wonderful. John always wants Daniel's family to know that his life affected many and that he had positive influences on two young boys in Brooklyn, NY that will never be forgotten.
Daniel's nephew Walter was also taught to fish by Daniel. He would take Walter to a pond behind their house and teach him to fish. Walter shared that Daniel was a patient and kind man who will be greatly missed.
Daniel's niece Sue Gilligan Hannon remembers Uncle Danny so fondly. They would visit Daniel's house in Florida, NY and Sue loved that Daniel Sr. loved dogs. She shared that he was such a nice, gentle, sweet man. Sue is sure Daniel Sr. is at peace in heaven surrounded by all his doggies!
His wife Carol fondly remembers them exploring and driving to nowhere special just to see what was out beyond where they lived. It was always an adventure to arrive in new random places. Gardening was another one of Daniel's favorite hobbies. He was quite prolific at growing string beans and pumpkins. So much so that Carol said he would walk around to all the neighbors handing out food that would last for months.
Daniel Jr. remembers times with Daniel Sr. in NY showing him how to play baseball, go fishing, growing a garden, and wood-working. Daniel Jr. most fondly remembers playing with Model trains. Daniel Jr. can never forget the great adventures of riding the NJT into Hoboken, NJ and sitting next to the train engineer, then going into Daniel Sr's place of work at Christmas time. He cherished their time together and seeing all the giant buildings and always eating a corned beef sandwich for lunch every year. Daniel Sr's passion for Lionel trains sparked a passion for the same in Daniel Jr's life and he continues on with a love of trains that he got from his father.
Patrick Gilligan always remembers the times with Daniel Sr. watching John Wayne (The Duke). They would spend long, lazy afternoons enjoying many old Western movies with his father and they shared a love for all things movie related.
Jennifer Gilligan (Daniel Jr's wife), remembers Daniel's ever present smile and infectious laugh. When he was able, he would love to share great stories and sit and talk and laugh with anyone who was willing. Daniel never met a stranger as all new people were a chance to make a new friend. Jennifer shared a story that still makes the family laugh to this day and showcases his personality so well. On a family outing to the Mall the family passed by many booths that were hawking their wares. Samples were offered but the family politely declined and kept walking. That is until they heard a great sputtering behind them from Daniel Sr. Everyone stopped and asked him what was the matter. He had a disgusted look on his face and was trying to wipe something out of his mouth, all the while spluttering and looking quite affronted. The family asked him what was the matter. His reply was: "That is the WORST candy I have EVER tasted!" The family all looked at him perplexed and asked where he got candy. He pointed back at one of the booths offering samples that they had passed. Well, apparently the proffered sample was not candy – but SOAP! Daniel Sr. had inadvertently eaten a hunk of soap that he believed was candy! It is a memory that is still shared to this day with great joy.
Evie Gilligan, Daniel Sr's nine year old Granddaughter, would like to say that she is so very happy to have known her Grandpa. She remembers having Thanksgiving dinner with Grandpa at Grandma Carol Gilligan's apartment in Houston. She remembers how excited Grandpa was to eat pumpkin pie! Also she will never forget the kisses he gave her before going to bed.
There are many more stories to share about Daniel Sr. but the family wanted everyone to know how he touched their lives and how much he will be missed. They welcome continued sharing of stories as it helps build on his legacy and binds the family together with love and fond memories.
Daniel is survived by his wife of 46 years Carol Ann Gilligan, sons Dan and Patrick Gilligan, Daughter-in-law Jennifer Gilligan, Granddaughter Evelyn Gilligan, and brothers John, Bill, Walter Gilligan and Tom Lavelle, as well as many cousins, nieces, nephews and their children.
Daniel's family will receive guests for a viewing on Thursday, April 28, 2016 from 6:00 – 7:00 PM at Crowder Funeral Home – 111 E Medical Center Blvd, Webster, TX 77598. Funeral Services will be held on Friday, April 29, 2016 at 10:00 AM at Crowder Funeral Home – Webster. The Rite of Committal with Final Commendation will follow at Mt. Olivet Catholic Cemetery, 7801 Gulf Frwy at Hughes Rd. Dickinson, TX Flowers and Memorials may be sent to Crowder Funeral Home 111 E Medical Center Blvd, Webster, TX 77598.