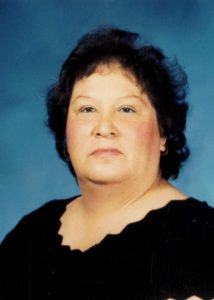 Consuelo Alaniz (83) of Richmond, Texas, passed away on Wednesday, February 15, 2023. She was born in Edinburg, Texas on July 19, 1939 to Carlotta and Pancho Garcia.
Consuelo lived most of her life in Texas City where she worked for Texas City ISD until retirement.
She is preceded in death by her mother and father, husband; Emilio Alaniz, daughter; Connie Alaniz, four sisters; Carlotta Martinez, Jeannie Porras, Becky Garcia and Janie Saenz and two brothers; Johnny Saenz and Ernest Saenz. Consuelo is survived by her four daughters; Yolanda Perez and husband John, Rosemary Salas, Delores Alaniz and Brenda Mouton and husband Randy, two sons; Emilio Alaniz, Jr. and Jesse Alaniz and wife Lisa, two sisters; Clemencia Saenz and Guadalupe Saenz and a brother; Steve Saenz. She also leaves behind to cherish her memory, 15 grandchildren, two of which she raised as her own; Poncho Alaniz and Ricky Vasquez, as well as numerous great-grandchildren and great-great grandchildren.
A funeral service will be held on Saturday, February 25, 2023 at 2:00pm at the James Crowder Funeral Home in La Marque with Deacon John Carrillo officiating.