Colonel Marian Frances Getzelman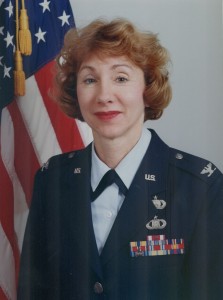 Colonel Marian Frances Getzelman passed from this world on Wednesday, February 11, 2015 at the age of 64 in Webster, Texas.  Marian was born in Cleveland, Ohio to Andrew and Marian Stockmaster. She was a lifelong Catholic who attended Regina Catholic School and went on to earn her Undergraduate Degree from Cleveland State and Master's Degree from the University of Southern California.  Just as she served the Lord, she proudly served her country for 21 years.  Marian entered the Air Force in 1979, when she was commissioned through Officer Training School.  During her career she served as an Air Weapons Controller, Logistics Planner and Programs Officer.  Her proudest accomplishments were her family and becoming a Colonel in the United States Air Force.  Throughout her life she was a volunteer, and touched many lives while working at St John's Hospital and in her local parish.
Marian was preceded in death by her parents, Andrew and Marian Stockmaster, and sister Kathy Steidel (Richard). She is survived by her beloved husband Lieutenant Colonel Hal Getzelman, her daughter Captain Ellen Canup (Ross), and son Grant. She is also survived by her siblings Joyce Bowser (Phillip), Paul (Lauretta), Ann Stockmaster (Richard Zbin), Captain Joan Stockmaster, Susan Kemp (Paul) and her father's second wife Audrey Stockmaster.
Services include visitation on February 15th from 6-8pm with a rosary at 7:30, followed by a Mass of Christian Burial on February 16th at 10:30am at St Clare of Assisi Catholic Church.  Marian will finally be laid to rest on the 18th of February at the United States Air Force Academy Cemetery in Colorado Springs, Colorado.  In lieu of flowers Marian asked that donations be made to St Clare Catholic Church's Memorial Fund.