Colonel Earl S. Barnett III, USAF (Ret.)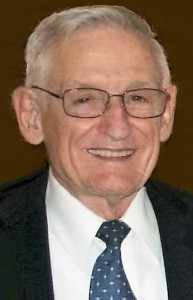 Earl Shyrigh Barnett III passed away peacefully March 30, 2016, in Houston. His life was a great, long adventure. He loved his family and stayed true to his faith. His heart was full of generosity and a desire to help others.
Earl was born February 8, 1927 in New Orleans, to Mary Marguerite (neé Richardson) Barnett and Earl Shyrigh Barnett, Jr. He grew up in the Baytown area, playing in the woods and creeks. His father was a scoutmaster and Earl began his lifelong love of working with Scouts and Explorers. He graduated from Lee High School in 1945. During high school he dug ditches for the Humble plant that later became ExxonMobil. He joined the Merchant Marine at 18 and trained at Sheepshead Bay, NY before sailing the Atlantic for Humble Oil and others.
After 3 years, Earl began college at the University of Southwestern Louisiana (currently ULL) in Lafayette, Louisiana. He was a member of ROTC and majored in Business. On May 27, 1952, within a 24-hr period, he graduated from college, was commissioned by the Air Force as a 2nd Lieutenant, and married the love of his life, Sarah Manly Bodemuller.
Their adventures in the Air Force took them all over the world. They began their family while training in Texas. They then spent 4 years in Japan where 2 more children were born. After a year in Hawaii, they returned to the states where their 4th child was born.
Earl took flight training, and served 7 years in the Strategic Air Command, flying B-47 bombers on nuclear airborne alert (1959-1966) and introducing the B-52's at Plattsburgh, N.Y. During these 7 years in Plattsburgh, his wife held the fort with their 4 children. In 1965, they moved to Norman, OK where he completed his Master's Degree in Business at the University of Oklahoma.
After graduation from OU, he went to flight training on F-4 fighter bombers before deploying to Southeast Asia.In November 1968 he began flying combat over Vietnam for the 555th Tactical Fighter Squadron from Udorn AFB.
Earl flew 158 combat missions and was awarded two distinguished Flying Crosses, nine Air Medals, two Legions of Merit, the Bronze star, Meritorious Service Medal, among others.
Upon returning to the states, Earl and the family moved to Tucson, Arizona at Davis-Monthan Air Base. He was promoted to Full Colonel, then served as Base Commander for 3 years at Kadena Air Base Okinawa, the largest Air Base in the Air Force at the time. After returning to the states, he was named Director of Personnel at Kelly AFB+ San Antonio Air Logistics Center, one of the largest employers in Texas.
Earl retired from the Air Force after 30 years and started his 2nd career as a Commercial Real Estate Broker in Houston. He was a founding member and later President Emeritus of the Bay Area Commercial Real Estate Network (BACREN). He won the BACREN Broker of the year award in 2001.
In 2003, Earl teamed with his son, Charles, to found The Barnett Capital Group, LLC which is now the largest brokerage of educational businesses.
All his life Earl was active in the church, becoming an elder in Plattsburgh, and again at Webster Presbyterian. He was also active in the Men's Bible Study at Clear Lake Presbyterian.Earl led and participated in many Boy Scout Troops and Explorer Posts wherever he lived.He was always interested in the stories of other people's lives; he never met a stranger. He was always willing to help his fellow man (or woman). All of his life Earl enjoyed fishing. He taught anyone willing how to hook a fish or tie a chicken bone for a crab. He will be greatly missed; the stories of his life will be treasured forever.
In addition to his loving wife, Sarah (Sally), Earl is survived by his 4 children, Kathy Traylor, Rick Barnett and wife, Fran Brockington, Doug Barnett and wife, Liz Lu , and Charles Barnett and wife, Karen Barnett, and Earl's 8 grandchildren, Steven Traylor, Christina McSpadden, Theresa Massad, Shea Barnett, Amber Barnett, Spencer Barnett, Allie Barnett, and Jessica Barnett and also his 2 great- grandchildren, Robert and Matthew Massad, and by his brother, Randy Barnett, and numerous nieces and nephews. The family would like to thank his doctors, including Dr. Ethan Podet, who over the years kept Earl's heart ticking.
Friends are invited to a celebration of Earl's life on Saturday, April 16 at 2:00, at Clear Lake Presbyterian Church, 511 El Dorado Boulevard, Houston 77062, with a reception to follow. Interment was held at Houston National Veterans Cemetery on April 8 with the VFW honoring him, and The Rev. Dr. Steve Oglesbee presiding.In lieu of flowers, donations may be made in his memory to Clear Lake Presbyterian Church or to the charity of your choice.