After almost 90 years on this earth Cl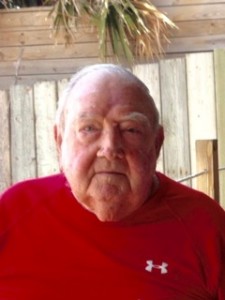 ifford E. Mantzel, Jr. went home to be with his Lord and savior on Feb. 19th, 2016. He was surrounded by his loved ones. He led a good Christian life and was always healthy until the last few weeks. Cliff was born March 10, 1926 in Galveston, TX and was the only child of C. E. Mantzel Sr. and Gladys Ryan Mantzel, two early families of Galveston Island.
At 17 he joined the United States Navy and spent two years sea duty in the Asiatic Pacific Area. He was stationed on the island of Eniwetok ,which was a major forward Navy base, in the Marshall Islands for 26 months. While on the island a barge filled with badly needed aviation fuel ran aground on nearby Japtan Island. The Japanese were trying to explode it, killing personal and rendering the planes on the island useless. Cliff and two other sailors took a landing craft to recover the barge. As the landing craft approached the barge, among a barrage of gunfire, Cliff jumped in the water with a rope tied around his waist, swam to the barge and attached the rope to it. The landing craft attempted to pull the barge off of the sand bar. The small LMC lacked the power to free the barge and a nearby tug had to be called to take over. In doing this he helped remove the danger from the men stationed on the island and safeguard the fuel and planes. Clifford's action did not go unnoticed and he was recommended for a Presidential Citation. He was part of the World War II Victory and was a proud veteran.
After returning home, he worked for Falstaff Brewing Co. in Galveston and then at Monsanto Chemical Company in Dept. 42. He raised his four children in La Marque and upon retiring moved to East Texas enjoying the country life with his wife.
He was devoted to the family which he treasured dearly. He is survived by the love of his life, his wife of 69 years, Patricia Godbehere Mantzel. His joy and pride shown through when he spoke of his children, Patty Saum and husband Hugh, of Friendswood, Clifford E. Mantzel III of League City and Tina Walker of League City, grandchildren Rachel Wooten and husband Rick, Eric Rapson and wife Angie, Nick Saum, Andrew Saum and wife Sarah and his great-grand children, Ashley Rapson, Sydni & Austin Rapson and Owen & Elliott Saum. He was preceded in death by his youngest daughter, Rebecca Lynn Mantzel who is rejoicing in heaven with him now.
Cliff was a gentle sweet man who upon meeting was loved by all. You could see this kindness in his bright blue eyes. He never failed to care for any of God's creatures and they in turn always had a trust for him. He loved feeding the birds and whatever creature would come to him for food and shelter. While living in East Texas animals of all sorts would assemble when he went to sit outside. Whatever animal was there, all knew they would be fed. It was such a sight to see the line of animals waiting their turn with no fights among them.
Cliff grew up being a member of the First Evangelical Lutheran Church in Galveston. However he attended the Methodist Church the majority of this life, most recently, League City United Methodist Church
A memorial service celebrating his life will be held at League City United Methodist Church on Sunday Feb. 28th at 2:00 with the Rev. Joel McMahon IV officiating.
But those who trust in the LORD will find new strength. They will soar high on wings like eagles. They will run and not grow weary. They will walk and not faint. Isaiah 40:31
In lieu of flowers please send any donations to League City Animal Shelter, 821 N Kansas Ave, League City, TX 77573, or your local "no kill" animal shelter. He will be in our hearts forever.