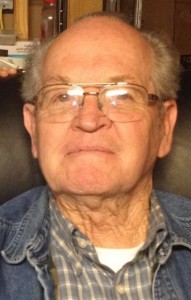 Claude Benford Spain, 77, a resident of Bayou Vista, formerly of Pearland, passed away on January 11, 2015 in Galveston, TX.
A Celebration of Mr. Spain's life will be held at noon on Thursday, January 15, 2015 with Pastor Jordan Golden  officiating  at Crowder Funeral Home in Pearland. Interment will follow at South Park Cemetery also in Pearland.
Mr. Spain was born April 3, 1937 in Shreveport Caddo Parish Louisiana and after graduating high school proudly served our country for 7 years in the Army. He worked for BF Goodrich for 19 years in Louisiana, Colorado and Houston and later retired from Mehtrom-Peak Inc. in 2008. Claude attended the Cross Point Church in Pearland, Tx and was affiliated with The Masonic Lodge. His hobbies included wood working, regularly attending activities involving his grandchildren and reading his Bible on a daily basis.
He is preceded in death by his parents, Burt and Mattie Spain.
Mr. Spain leaves behind to cherish his memories his wife of 40 years, Louise Bentley Spain; children: Katrina Grace Zinnante and husband Peter, Libby Golden and husband Rick, James Guice and wife Kay, Johnny Guice Sr. and Wife Brenda; sisters: Dianne Riley and husband Bud, Margie Boucher, Glenda Spain and Bertie Wilhite and husband Don; grandchildren: Zachary Golden, Jordan Golden and wife Renaté, Lori Beth Perez and husband David, Maredith Guice and husband Raul Garza, J.D. Guice Jr., Lauren Guice, Katie Guice and husband Oscar, Caleb Golden, Laynie Guice, Clayton Zinnante, Kaden Zinnante and Addison Zinnante; great grandchildren: Faith Perez, David Perez Jr., Riley Garza, Masen Garza, Samuel Gonzalez, Maya Gonzalez and Ezekiel Golden.
Pallbearers: Peter Zinnante, James Guice, Johnny Guice Sr., Zachary Golden, Caleb Golden and J.D. Guice Jr.
Honorary pallbearers: Rick Golden, Ezekiel Golden, Clayton Zinnante and Kaden Zinnante.