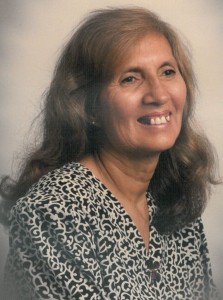 Clara Cisneros Carranza, a 60 year resident of Houston, TX passed away at her home with family by her side on June 19, 2016. Mrs. Carranza was born in Corpus Christi, TX on January 10, 1936.
Clara was a loving wife and mother with a youthful, loving spirit that kept the family together. Her family was her joy.  Raising her children, grandchildren, nieces, and nephews will always be her pride and joy.  She enjoyed gardening, her beautiful flowers, the beauty of nature, and collecting dolls.  She embraced memories of events, trips, visits, and most of all her collection of photos of each individual to keep them as close as possible.  Each momento she kept, no matter how small, she was able to describe who, where, when, and what it reminded her of.  Her love will always be in our hearts.
Mrs. Carranza was preceded in death by her mother, Guadalupe Cisneros Morales, her sister Tomasa Cisneros, son-in-law Bill Pitts, and daughter-in-law Hollie Carranza.
Mrs. Carranza is survived by her husband of 61 years of marriage, Luis Higinio Carranza, Sr., daughter, Mary Jean Pitts, sons: Luis Higinio Carranza, Jr. & wife Judi, Jose Ignacio Carranza & wife Rosa, Mark Anthony Carranza, Thomas Glen Carranza & wife Christina, and Christopher Michael Carranza, 14 grandchildren, 10 great grandchildren, sister, Maria Elena Martinez, and numerous nieces and nephews.
Visitation will be from 5 p.m. – 8 p.m., with a rosary beginning at 6 p.m. on Wednesday, June 22, 2016 at Crowder Funeral Home, Pearland, TX. Funeral Mass will be held on Thursday, June 23, 2016, at 11 a.m. at St. Paul Catholic Church, 18223 Point Look Out Drive, Nassau Bay, 77058.  Burial to follow at Mount Olivet Cemetery, 7801 Gulf Freeway, Dickinson, TX 77539.
Pall bearers will be Luis Higinio Carranza, Jr., Jose Ignacio Carranza, Mark Anthony Carranza, Thomas Glen Carranza, Christopher Michael Carranza, and Mary Jean Pitts.