Clara Ann Cram Hendricks Adair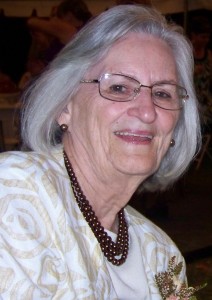 Clara Ann Cram Hendricks Adair, 81 of La Marque, passed away on the morning of Friday, November 27, 2015. She was born in Galveston, Texas on July 23, 1934 to Madeline and Viggo Hans Sanne. A longtime resident of La Marque and Member of the First Lutheran Church of Galveston, Clara will be greatly missed.
She is preceded in death by her mother and father, her husbands, Bobbie Cram, Billy Hendricks and Ray Adair: and her grandson; Omar Galen Akmal. Clara is survived by her daughter; Karen Wilkins and husband Jack, five sons; Kenny Cram and wife Cathy, Bobby Cram and wife Sherlene, Larry Cram and wife Elaine, Bruce Cram and wife Debra and David Hendricks and wife Eileen, brother; Charles Victor Sanne, eight grandchildren; Kendal Jordan and husband Rusty, Kenny Cram, Jr. and wife Debbie, Jarrod Cram and wife Crystal, Ryan Hendricks, Noah Hendricks, Hannah Hendricks, Sheena Terro and husband Jeremy, and Taylor Wilkins and wife Allie, and seven great-grandchildren; Kelsey Coutorie, Dariane Cram, Kallen Cram, Madison Akmal, Hayden Cram, Colby Cram, Paisley Terro, Maggie Terro and Joseph Terro; sister-in-law Sylvia Johnson.
Visitation for Clara will be held at the James Crowder Funeral Home in La Marque On Monday, November 30, 2015, from 5:00pm to 8:00pm. A funeral service will be held 5:00 p.m. Tuesday, December 1, 2015 in the Chapel of the James Crowder Funeral Home in La Marque, with Dr. C.O. Magee, officiating.
In lieu of flowers, Clara requested that donations be made to the St. Jude Cancer Hospital. A special thank you to Hallmark Hospice, specially her nurse Laura LaBry.