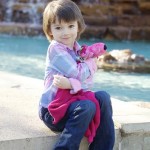 Claire Louise Lankford, 5, of Dickinson, passed away May 3, 2014 at her home. She was born February 12, 2009 to Patricia and Kevin Lankford in Webster. Claire was preceded in death by her grandparents Mary Ann and Guy Lankford, Jr.
She is survived by her parents, Patricia Lankford and Kevin Lankford; grandparents, Larry and Cynthia Goux; uncles, Michael Eames (Jennifer) and Chris Eames (Charity), first cousins, Katherine, Allen, Bryson and Blythe Eames and numerous friends.
Honored to serve as pall bearers are Michael Monford, Michael Eames, Christopher Eames, and Allen Eames.
A visitation will be held Wednesday, May 7, 2014, from 5:00 pm to 8:00 pm, Crowder Funeral Home, Dickinson, TX. A Celebration of Life will be held Thursday, May 8, 2014, 12:00 pm, at Clear Creek Community Church, League City, TX, with committal services following at Dickinson Cemetery, Dickinson, TX.
Claire's family would like to thank Big Love Cancer Organization, Make-A-Wish, and Give Kids The World for their care and support.
All services are closed to the media.