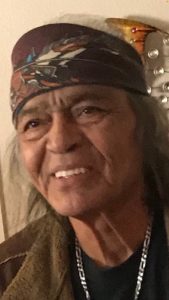 Cipirano Diaz, Sr, 70, departed from this land on Thursday, November 24, 2022.  Cip, as he was lovingly known by everyone, was born on November 2, 1952 in Galveston, Texas.  He was one of ten children born to Francisco and Guadalupe (Martinez) Diaz.
Cip was a man of many trades, but his passion was rebuilding classic trucks and cars.  He had a great talent for it and continued working on them throughout his life.  He truly enjoyed traveling all over and the thrill of gambling at the casinos.  He has been to many casinos in different states.  Cip's career began at the Galveston Housing Authority and continued for 34 years until he retired.
First and foremost, he was a father and loved all of his children, grandchildren and family unconditionally. He was always one who could be counted on if someone needed a hand.  He would always be there, no matter what!
Most of all, Cip loved his American Indian heritage.  He enjoyed going to the Indian Pow-wows and browsing Native American items under the tents.  His lifelong dream was to watch the buffalo run.  Along with a couple of friends, Cip went on a trip to Wyoming to fulfill his greatest dream.  While on the trip, he was able to pet and feed the buffalo.  If you could only have seen how his eyes lit up!
Cip was preceded in death by his parents; daughter, Norma Jean; brothers:  Raymond, Albert, Joe, Francisco and Daniel; and sister, Janie.
He is survived by his wife and best friend, Tammy; his children:  Cipirano, Jr. (Elisha), Julian (Sheila), Francisco (Monique), Jaclyn (Jimmy), Felix, Jack (April), and Brian; brother and sisters:  Trinidad, Mary Lou and Annie; grandchildren: Fernando III, Gabriella, John John, Julia, Cipirano III, Alazey, Aven, Jerzee, Juju, Nevaeh, Julan, Braylon, Giovanna, Olivia, Matteo, Caeden, Jorden, Adrianne, Aubree, and Lily; nephews that he helped raise:  Geoffrey, Matthew, and Trent; numerous nephews, nieces, family members and friends.  He also leaves behind his faithful fur-baby, Dakota.
Pallbearers will be Cipirano Jr., Julian, Francisco, Jack, Trent and Jimmy.  Honorary pallbearers will be Cipirano III (Little Man) and Caeden.
The visitation will be held on Friday, December 2, 2022 beginning at 12:00 p.m., with the funeral service to begin at 2:00 p.m at James Crowder Funeral Home, 401 Texas Ave., La Marque, Texas 77568, with Pastor Jerry Stark officiating. Entombment into the mausoleum will follow at Hayes Grace Memorial Park, 10708 Hwy 6, Hitchcock, Texas 77563.