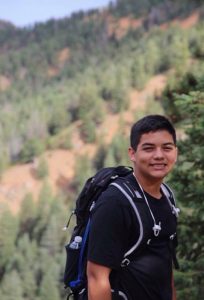 Christopher Jake Stone, 17, of Santa Fe, TX passed away May 18, 2018, in Santa Fe, TX.  Chris was born October 19, 2000, in Webster, TX to Christopher and Rosie Stone. He was a junior at and member of the Santa Fe High School JV football team and ultimate frisbee team. He loved hanging out with his friends, enjoying time with his girlfriend Reagan Gaona, and playing his PlayStation 4 as his long time gammer tag smashhulk00. Chris was loved by many for his sweet, loving, and down to earth personality. Chris was known for being the life of the party, singing, laughing, and always down for a dance battle. Chris is preceded in death by his grandfather Fernando Yanas, great grandfather Jake Anderson, and great-grandmother Veda Marie Stone.
Chris is survived by his parents Christopher and Rosie Stone; sisters Angelica and Mercedes Stone; grandparents Victoria Yanas, Juan Ybarra, Ronnie and Suzie Stone; aunts and uncles Robert and Nicole Stone, David and Liz Yanas, Mario and Stephanie Yanas, Fernando Yanas, John "Spud"Wilson, and Jonathan Domino; and many loving cousins.
There will be a visitation from 2:00 P.M. to 4:00 P.M. on Friday, May 25, 2018, at Clear Creek Community Church 999 FM 270 League City, TX 77573.  A Funeral Service will follow at 4:00 P.M. with Pastor Clint DeGroot officiating.  Pallbearers will be Bresdon Lee Perez, Branden Lee Auzston, Jeffery Hunter Farris, Gage Michael Slaughter, Kolby Ryan McManis and Mateo Elisha Kealii Flores. The family would like to also offer a very special "Thank You" to Jeffrey Hunter Farris for his unrelenting faith and friendship during Chris's last moments.
In Lieu of flowers, memorials may be made to Santa Fe Texas Educational Foundation at P.O. Box 747 Santa Fe, TX 77517.