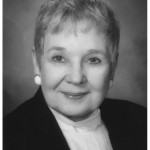 Memorial service 2pm Thursday, August 7, 2014 at Crowder Funeral Home Chapel, Webster.
Charlotte Ann Garner, 90, of El Lago, Texas passed away peacefully in the early morning of Thursday, June 12, at the Regent Care Center of League City where she had resided since March.  She was born on 5 Dec 1923 in Beaumont, Texas to the late Ivah Beryl Stone (1905-1999) and Henry Nathan Blum (1893-1968).  She was an only child.  Charlotte's parents separated when she was an infant, and she was raised by her mother and her mother's parents.
Charlotte was married on 3 Jan 1942 in Houston, Texas to the late Lynn Ellis Garner (1923-1965), a pilot in the U. S. Air Force.  They were divorced in 1959.  They had no children.
After leaving Texas as a result of her marriage, Charlotte worked in Oakland, California for Kaiser Steel, rising from a clerical position to become a Field Safety Coordinator and Assistant to the Corporate Director of Safety for Kaiser.  While working full time for Kaiser, she took night classes and earned a certificate in Occupational Safety and Health from Merritt Junior College in Oakland and then a bachelor's degree in Business Administration in 1972 from the University of San Francisco.
Charlotte immediately began work on her master's degree.  In 1977, Charlotte accepted a position in Washington D. C. as Manager of Safety Services with the American Iron and Steel Institute.  In 1978, Charlotte had the distinction of becoming the first woman to be awarded a Master of Science in Safety degree by the University of Southern California's Institute of safety and System Management.
In the summer of 1980, Charlotte was recruited to assist a Houston company, Webb, Murray & Associates, Inc., with their proposal to provide Fire Protection and Safety Support Services to the National Aeronautics and Space Administration at the Lyndon B. Johnson Space Center.  Partly as a result of her participation in that proposal and her role as a member of the proposed leadership team, NASA awarded the company a three-year contract.  Charlotte moved to Houston, back to her beloved Texas, to join WMA as lead safety professional on that work for NASA at the JSC.
Before retiring in 1998, Charlotte spent 19 years as Corporate Safety Director for WMA, helping to assure safe practices and safe operations for the company and to represent the company in safety interactions with its customers in the chemicals and petroleum refining industries primarily along the U. S. Gulf Coast and Eastern Seaboard.  During the first 14 of those years, Charlotte was in a lead safety professional role in the company's work for NASA at JSC on their initial and subsequent contracts.  Upon her retirement, WMA created the Charlotte Garner Safety Award to be presented quarterly to the group within the company with the best overall safety process indicators and record.
Charlotte was highly regarded in her profession, especially in the Greater Houston Area.  She was a Professional Member of the American Society of Safety Engineers and served as President of the Gulf Coast Chapter in the 1989-1990 term.  She then served as Board Member and Treasurer of the Past Presidents' Foundation for the American Society of Safety Engineers, Gulf Coast Chapter.  In 1991, Charlotte was honored as the Safety Professional of the Year by the Gulf Coast Chapter of the ASSE.
From 1982-1994, Charlotte served as an Adjunct Faculty Member at the University of Houston Clear Lake, where she taught system safety and other safety principles and methods.  She was a member of the System Safety Society and an Associate Member of the American Industrial Hygiene Association.  She was a Board Member of the Houston Area Contractors Safety Council and served as Treasurer of that organization in 2000.
In 1999, Charlotte in collaboration with a colleague, Patricia Horn, was co-author of the book How Smart Managers Improve their Safety and Health Programs: Benchmarking with OSHA VPP Criteria, published by the ASSE.  On 12 Feb 2000, the book received the Excellence in Technical Communications award by the Society for Technical Communications, Twin Cities Chapter, after a national competition.
Following her directives, Charlotte's remains will be cremated and her ashes distributed by the U. S. Coast Guard off the coast of Galveston in the same manner as Charlotte had her mother's ashes distributed following her death and cremation in 1999.  A memorial service will be held at the Crowder Funeral Home Chapel in Webster, Texas in July.
In lieu of other remembrances, and in keeping with Charlotte's love and respect for the safety profession and its noble purpose and objectives, contributions may be made in her name to the American Society of Safety Engineers, Gulf Coast Chapter.
Paul Hernandez, CSP – Treasurer
ASSE Gulf Coast Chapter
P.O. Box 1090 Deer Park, TX 77536