Charley "Chuck" Orman Blissit, Sr.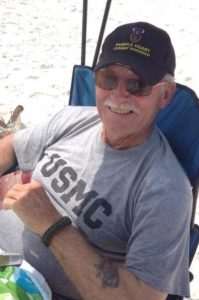 Our beloved Chuck was born on May 5, 1949 in Corpus Christi, Texas.  His life had such a huge impact on all our lives.   Chuck loved God and his family.  As a Vietnam Veteran, he was so proud of his country and the Marines Corps that he served in. His discipline was passed on to his children as he instilled a sense of work ethic and respect for elders. Chuck had always been a standup person that would give his opinion in any scenario and not be afraid to express it. This was always a highlight of the night as he loved to discuss politics and discuss his views on what's wrong with the country.  While Chuck was a family man that loved spending time together he was also an avid fan of the Cowboys and Astros. He would make sure to never miss a game, even if it meant listening to it on the radio. A true Texan native, he loved his Country music and would even enjoy the influence of Tejano music giving a "yeeehaa" or even "ayyyyyyyiyi" while dancing with his beloved baby at family gatherings. His favorite musicians included Dwight Yoakum and Roy Orbison.  Chuck managed to have a bizarre ability for mathematics and some suggested that he should even work for the IRS. He was extremely meticulous with his accounting, very thorough with his finances and extremely organized. "Nothing" went unnoticed. One of the most admirable qualities Chuck had was his dedication and commitment to his job.  Sometimes he would work 2-3 jobs to reach his goals. As he got older he would still be waking up at the crack of dawn to work long hours in extreme conditions. The funny thing about this is that Chuck didn't have to, but he did because he absolutely loved to do it. He was delighted to count how many hours of overtime he had coming and would always sign up for more when available. Remember, Chuck was very vocal so his sleep had better not been interrupted!  Some of his favorite past times would consist of jogging, working out, crossword puzzles, playing solitaire and being a face booker.  One that's not included is Blue Bell ice cream. That's because this was not a hobby for Chuck, this was his duty. "Don't mess with my Blue Bell ice cream."  Chuck was an extremely loving husband and Father. His Marine ways kept him from being an emotional man, but everyone knew his love and concern for others. Many of his friends and family members would say that they enjoyed his conversations, snarky jokes and small political debates. This is who Chuck was.  Sadly Chuck departed this life on May 10, 2017 at his home in Friendswood, Texas.  He will be deeply missed by his beloved wife, Johanna Rinze-Blissit; daughters, Charlynn Martin and Deborah O'Brian; sons, Shawn Paul Neckelmann, Charley Orman Blissit, Jr. and Erik Neckelmann; sister, Deborah Spearing and six grandchildren.
Military Graveside Service, 11:15am, Wednesday, May 17, 2017 at Houston National Cemetery. Funeral Procession to leave Crowder Funeral Home, Webster at 10:00am.