Charles William Dipuccio, Sr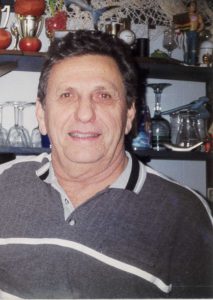 In Loving Memory of Charles William Dipuccio, Sr., known to family & friends as "Charlie" or "Papa".  He was born in Galveston, Texas on July 25, 1931 to Dominic and Anna Dipuccio and passed away on December 31, 2022 in Bayou Vista Texas.
Charlie was a 1948 graduate of Ball High School, in Galveston, Texas. He later went on to enlist in the United States Navy and served proudly from 1952 -1954. Not long after his discharge he met & married the love of his life Vivian Louise to whom he was married to for 66 years until her passing in 2020. Together they had 3 wonderful children, 5 grandchildren and 6 great-grandchildren.
Charlie was a longtime member of VFW Post 5400, the Pipefitters Local 211, and a Master Plumber and worked for Air Products, Inc. until his retirement in 1995 to spend time with his growing family.
Charlie's work ethic and generosity spilled over to all of his children and he was truly loved by all who met him. Charlie and Vivian raised their three children in Hitchcock, Texas and upon his retirement moved to Bayou Vista, Texas where the door was always open and there was a seat at "Charlie's Bar" for anyone! Charlie will be remembered for his famous Spaghetti Gravy, Paprikash and of course, Homemade Bailey's Always at Christmas Eve!
He mostly enjoyed dancing with his wife Vivian, Coaching Little League Baseball with his 2 sons, Rocky and Rusty, Adoring his daughter Ricki Marie & entertaining his numerous friends and loved ones. He will be missed dearly and in our hearts forever.
He is preceded in death by his parents, Dominic & Anna, His loving wife of 66 years, Vivian Louise Dipuccio, son Russell Lee (Rusty) Dipuccio, youngest brother Bobby Dipuccio, and sisters, Mary Sullivan and Stephania Fox.
Charlie is survived by his oldest brother Dominic "Dickie" Dipuccio, son (Rocky) Charles Dipuccio, Jr.
(Cheryl), Daughter Ricki Marie Dipuccio-Bergeron (Patrick), five Grandchildren; Charles Derek Dipuccio (Kristal), Steely Nicole Dipuccio, Brittney Petrillo, Shannon Renee Dipuccio and Lexi Delany Bergeron and his 6 great-grandchildren; Kamryn Dipuccio, Kelsey Dipuccio, Rylan D'Ascenzo, Savannah Petrillo, Alana De La Garza and Riley Caminiti.
Per Charlie's wishes there will be no service.
In lieu of flowers, the family requests that a donation may be made in Charlie's honor to your favorite charitable organization.
Arrangements are under the direction of the James Crowder Funeral Home in La Marque.