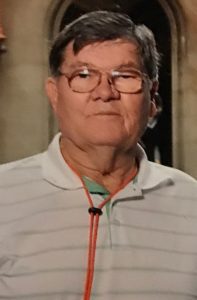 Charles Wayne Brewer, 80, of Pearland, TX passed away at his home on October 16, 2017.  Mr. Brewer was born on September 25, 1937 in Big Springs, TX to Marshall and Edith Brewer. He is a graduate of West Texas State University and Texas Tech University. He was raised in the Baptist Faith.  Mr. Brewer was a History Teacher and Golf Coach with 44 years of combined service with the Lubbock and Midway ISDs before retiring to Pearland.
Charles is preceded in death by his parents, Marshall and Edith Brewer; son, Gregory Brewer and grand-daughter, Melanie Malone.
He is survived by his loving wife of 30 years, Martha Brewer; daughter, Leslie Malone and husband Brian; step daughter, Donna Hamilton; step son, Jeff Jones, wife Andrea; brothers: Richard Brewer, wife Kathleen and Housty Brewer; grandchildren: Hillary Sacks, husband Ryan and Nathan Malone; five step grand-daughters and five step great grand-sons.
There will be a Memorial Service at 2:00 p.m. on Saturday October 21, 2017 at Crowder Funeral Home 2422 Broadway Pearland, TX 77581.  In leu of flowers memorials may be made to the charity of your choice in memory of Charles Wayne Brewer.