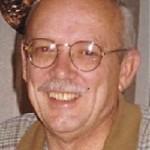 A memorial will be held at Crowder Funeral Home 111 E.Medical Ct. Blvd. at 2 p.m. on Wednesday, July 2nd.
Charles Knight Seaman III was born on July 7, 1940, in Houston, Texas to the late Charles Knight Seaman Jr. and Fay Cook Seaman. He grew up in various Texas towns to include Wink, Alvin and Odessa.  He graduated from High School in Odessa, Texas in 1958. In 1959 he left to attend Texas A&M University. He also spent some time in west Texas as a roughneck working on oil rigs. He received his degree in Aerospace Engineering in 1963 and would also go on to earn a Masters of Arts from the University of Houston at Clear Lake in 1990.
Charles began his career at NASA Johnson Space Center following college in 1964 and had a long and accomplished career.  He worked on projects associated with the Apollomoon landing program, which included flight simulation. He would go on to participate in the space shuttle, SKYLAB and International Space Station programs. Charles retired in 2005 after 41 years of dedicated service.
The only thing greater than his dedication to his career was that to his family. Charles met Sue Ellen Orellana in the summer of 1968 In Houston, TX and would be married in 1969. Charles and Sue Ellen had three sons; CPO Christopher Seaman, USN, of Saratoga Springs, NY and wife Keri; George Seaman, of Houston; and LT William Seaman, USN, of Yokosuka, Japan.
He was a wonderful father who would take his sons fishing on Chocolate Bayou any chance he could get. Year after year he volunteered to coach his sons' little league baseball teams. He instilled in his sons the importance of education and public service.
In honor of his involvement in his local community, the City of Houston and his neighbors have named his local neighborhood park after him. His family is immensely proud of his many achievements.
Charles passed away on June 23, 2014 at his home in Webster, Texas surrounded by friends and family.
He is survived by his wife and three children; his brothers George and his wife Sarah; Fred and his wife Pat; his granddaughter, Sophie; and his cousin Cookie.
He will be remembered by many close friends and extended family.