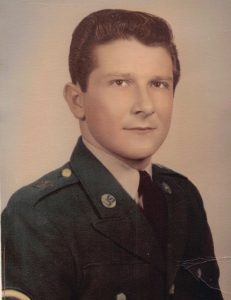 Charles Richard Orsak, 85, beloved and proud father of four boys, passed away on July 29, 2022 in Pearland, TX from pancreatic cancer. Charles was born in Dayton, TX on January 13, 1937. He served his country in the U.S. Army in 25th Division Scofield Barracks as a postal officer. He moved to the Pearland area in 1967 and attended St. Helen Church where he was a 4th degree member of the Knights of Columbus.
Charles was an Engineer at Houston Natural Gas until 1974, he then left and went into sales of paper supply. Charles was also an entrepreneur who also owned several other businesses.
Charles is preceded in death by his parents, Joseph, and Mary Orsak; sister, Ann Beran; brothers: Albert Orsak, William Orsak, and Joe Orsak.
He leaves behind his four boys: Dr. Glenn Thomas Orsak, wife Susie, Brian Christopher Orsak, Dr. Shannon Michael Orsak, wife Sara, and Christian Edward Orsak, wife Chamie; ten grandchildren, 9 step grandchildren; and two great grandchildren, and three step great grandchildren. He also leaves behind his love, fiancé and soulmate, Ann Shiver; her daughters: Marie Sharp, husband Tom, Vicki Stephens, and Jennifer Shimek, husband Brandon and their families; brothers: Leon Orsak, and W.L. Orsak.
There will be a visitation on Wednesday, August 3, 2022 from 5-8 p.m. with a rosary at 6 p.m. at Crowder Funeral Home in Pearland. Funeral service will be held Thursday August 4, 2022 at 10 a.m. in the chapel of Crowder Funeral Home in Pearland. Burial to follow at South Park Cemetery in Pearland, TX.