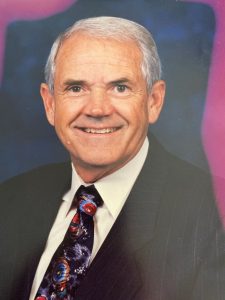 Charles Leo Hutchins, 86, went to heaven to meet Jesus on October 17, 2023, at his residence in League City, Texas, with family by his side. Charles was born on March 1, 1937, in Bay City, Texas, to parents Leo Hutchins and Willie Mae Adams Hutchins. After graduating from Texas City High School in 1955, he started work for Union Carbide & Chemicals Corporation (UCC) as a machinist apprentice. He loved to tinker and work on a "project," so this trade fit him perfectly. Charles excelled as a machinist, and in 1960 he was invited to work with Manuel Chionsini and Fred Heinemann, who had together started a machining business in La Marque in 1957. Charles worked at A&A Machine & Fabrication, LLC, for 62 years, first as a machinist, then as foreman, plant superintendent, owner and vice-president, and finally as managing partner before he retired in 2022. He was very interested in his employees, often visiting the plant floor to talk to each one. He would shake their hands and show interest in their lives, which was unusual for an owner.
Besides building a business, Charles coached baseball and participated in Boy Scouts with his sons. For many years he was also a lay preacher at a church in Texas City. He loved the Lord his Savior and served and gave in many ways to local churches. At his death he was a member of Bay Area Church in League City.
Charles was known as "Papa Charles" to his grandkids and great grandkids. He attended their piano and dance recitals, softball games, award ceremonies, birthdays, and holiday gatherings. He encouraged them in their interests and always had a project going with them, from building rafts to making marshmallow guns from PVC pipe. For their birthdays he was only interested in getting them gifts that would be educational—he didn't want a "silly little ole toy" for them.
Until age 80 Charles was very involved in the Celebrate Recovery program because he cared about those addicted to alcohol or drugs. There he shared his own testimony and taught lessons to those attending, becoming much respected and loved by the group.
In 1959 Charles began his aviation career by taking flying lessons in a Piper J-3 Cub. In 1975 he joined the TORA TORA TORA Airshow Demonstration Team of the Commemorative Air Force (CAF), flying his first airshow in October 1976. In 1987 he became TORA Lead and held that position for 23 years. During his 35 years with the TORA group, Charles encouraged and inspired each member to work as a team. He also began racing airplanes at the Reno National Championship Air Races in Reno, Nevada. In 1995 he won the AT-6 Gold National Championship and retiring from racing. He then retired from TORA in 2011.
In the early 1980s, wanting to share his love of aviation with the masses, Charles approached the City of Houston and obtained permission to host an annual public airshow. He assembled a team and worked endless hours, becoming cofounder of the Wings Over Houston (WOH) Airshow at Ellington Field in 1984. The airshow recently celebrated its 34th anniversary. Charles led by example and has served as a continuing inspiration to countless people in the airshow industry.
Some of Charles's greatest aviation achievements include the Lloyd P. Nolen Lifetime Achievement in Aviation Award presented by Wings Over Houston Airshow, the Marvin L. "Lefty" Gardner Flight Excellence Award, and the Lloyd P. Nolen Achievement Award presented by the CAF. Charles served on the board of directors for both Wings Over Houston Airshow and the International Council of Airshows (ICAS), then becoming chairman of the board for ICAS. In 2006 he was awarded the Sword of Excellence presented by ICAS, which is the highest honor in the airshow industry. He was then inducted into the Commemorative Air Force Hall of Fame in 2013 and the Texas City ISD Hall of Fame in 2016.
Charles is preceded in death by his first wife, Alice Jo Cook, and his second wife, Sharon Faye (Barrett) Hutchins; his parents Leo and Willie Mae, and two sisters Nora Tatum and Charlotte Stovall. He is survived by his loving family: daughter Cheryl Nyquist and husband Paul; sons Patrick Hutchins (Amy Anderson), and Alan Hutchins and wife Jan; brothers Clint, David, Harvey, and Aubrey Paul, and sisters Betty Dortch and Teressa McCoy; seven grandchildren: Natalie Nyquist and husband Clayton Wilkinson, Taylor Nyquist and wife Jenny, Carson Nyquist, Sawyer Nyquist and wife Karen, Erin Hutchins, Emily Hendrix and husband Aaron, Elissa Wolfe and husband Brett; and eleven great- grandchildren: Ethan, Cami, Cora, Millie, Wes, Haddon, Owen, Elias, Daisy, Caleb and Lucas.
The family is grateful to all the staff, nurses, and aides at The Cottages in League City, Friendly Faces in Pearland, and Hospice Plus of Clear Lake for their sincere and tender skills in the care of our dad.
A private family service will be held on Tuesday, October 24, 2023, at Crowder Funeral Home in Dickinson, followed by interment at Forest Park East Cemetery with Dr. J. Paul Nyquist as officiant. Pallbearers will be Patrick and Alan Hutchins, Taylor Nyquist, David, Robert and Steven Barrett, and David Vasichko.
A celebration of life for all of Charles Hutchins's family and friends will be held at 1:30 p.m. on Tuesday, November 21, 2023, at Bay Area Church, 4800 W Main St., League City, TX 77573 with Pastor Brian Haynes as officiant. Please make plans to attend if able.
In lieu of flowers, Charles would love for you to perform an act of kindness for someone or donate to Hidden Acres (www.hiddenacres.org; P.O. Box 901, Kaufman, TX 75142- 0901).