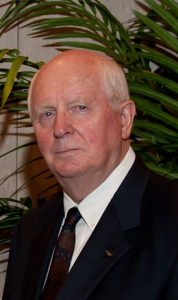 Charles Richard (Charlie) Hodges, 88, passed away on December 7, 2020 in League City, Texas.
Charlie was born on October 5, 1932 in Mobile, Alabama to Charles Jackson and Sadie Hodges.  In his youth, he served as an altar boy at St. Joseph's Chapel – Spring Hill College, Mobile, Alabama, and became a proud Eagle Scout.  He joined the United States Navy in 1952, completed flight training, and for most of his active-duty career was a naval aviator in Navy VP-49 flying seaplanes on anti-submarine patrol over the Atlantic Ocean.
After leaving the Navy, Charlie earned a Bachelor of Science degree in Mechanical Engineering from the University of Alabama and worked as a mechanical engineer for various employers, including Brookley Air Force Base, Scott Paper Company, GAF, Elk Roofing, Amoco, Brown & Root and PAE, ultimately retiring from Solvay.  His career took him around the world, and he and his wife had adventures living in Bermuda, Canada, Indonesia, London, Edinburgh, Moscow, Antwerp, and Tokyo, as well as a number of locations in the United States.  Known for his strong work ethic, his commitment to duty, his wry sense of humor and his smooth manners, Charlie made friends everywhere he went and seemed never to meet a stranger, at least not one who remained that way for long.
Charlie is survived by his wife of 64 years, Laura F. (Dolly) Hodges; daughters Laura Hodges, Elizabeth Young (Jim), Grace Tice, and Amanda O'Quinn (Tim); brother Jack Hodges; sister Anne Jelinek (Fred); grandchildren Daniel Henderson, Scott Tice, and Monica Tice; and numerous other family members and friends.  In light of the COVID-19 pandemic, there will be no memorial service at this time.  The family asks that, in lieu of flowers, donations be made in Charlie's memory to Brothers of the Sacred Heart, New Orleans Province, 4600 Elysian Fields Ave., New Orleans, LA 70122.
UPDATED 1/3/2023
A Graveside Service with Full Military Honors will take place on Friday, March 17, 2023, at 11:15 am at Houston National Cemetery, Houston, Texas.