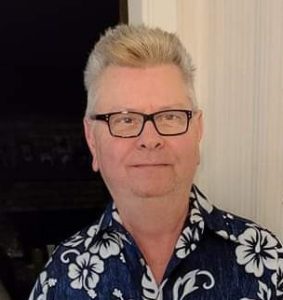 Charles Edwin Stewart, 62 of Shreveport, Louisiana passed away on February 1, 2022 in Shreveport, Louisiana.  He was born November 1, 1959 in Texas City, Texas to Arthur and Ruth Stewart.
Charles was a 1978 graduate of Texas City High School graduating with honors.  He received his certification in Hairstyling, his Associated Degree in Music from the College of the Mainland and a degree in Divinity. He worked as a Hair Stylist for 47 years and as a Music Minister for over 30 years. Charles was a present member of Southern Methodist Church of Haughton, La., where he served as Pianist and Music Director for over 5 years.
Charles was a simple man that served God with music, singing and directing the choir.  He embraced life to the fullest, with many struggles, but overcame them by his faith in Jesus Christ. He loved his family and gave of himself to make them happy.  His enjoyment was cooking and baking for them and others.
He is preceded in death by his parents and sister, Evelyn.  He is survived by his sons; Robert Stewart and Stephen Stewart (Bonnie), grandson Arron and granddaughter Keavy, two brothers; Arthur Stewart and David Stewart, three sisters; Karen Cole (Donald), Kathy Brisbin (Robert) and Artis Slocum; Kerri Cox and many friends from Shreveport and several nieces, nephews and cousins.
Pallbearers will be David Stewart, Irene Slocum, Bryan Slocum, Sr., Bryan Slocum, Jr., Christopher Slocum and Joseph Slocum.  Honorary Pallbearers will be Richard Brisbin and Alexander Stewart.
Service will be at 11:00am on Monday, February 14, 2022 at the Crowder Funeral Home, La Marque with Pastor Clay Bowers officiating. Interment will follow at Galveston Memorial Park Cemetery in Hitchcock, Texas.