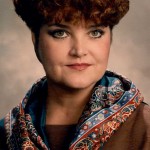 A Celebration of Life honoring Cecilia Sanders will be held at 2 pm on Saturday, March 29, 2014 at Crowder Funeral Home, 2422 Broadway, Pearland, TX 77581.
Cecilia entered into peaceful rest at home surrounded by her family on Thursday, March 20th after a long and valiant struggle with cancer. Her 66 years of life were filled with the love of her family and friends.
She is at last reunited with her heavenly family who preceded her in death; her parents, Audrey C. and Margie Crow; her husband, Dr. John Kerry Sanders and her daughter, Kara Danielle Sanders. Cecilia leaves behind her daughter, Jennifer Elizabeth Sanders; her son, John Tyler Sanders; three grandchildren, Conner Mangrum, Jordan Mangrum and McKenna Sanders; her sister, Audrey Theiler; and her aunt, Sarah Knight.
While she had been a Friendswood resident since 1993, she lived in Searcy, Arkansas for many years after her husband went into medical practice. There she attended Harding University, pursuing a degree in Nursing and taught as a clinical instructor earning a Teacher of the Year Award her first year teaching. After moving back to Friendswood, she worked as a psychiatric nurse and later as a staff nurse in Cardiac Step-Down/ Telemetry at St. Johns Hospital.
Those of us who knew and loved her will remember her for three things: her love of gardening. Her love for all her animals, but most of all for her love for her family who were her life. She made us richer for knowing her and she will be missed.