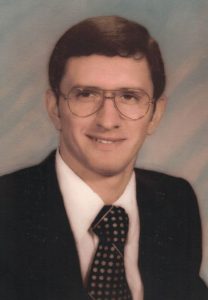 Carwyn Lane Abraham, of League City, Texas passed away on Saturday, March 25, 2023, at the age of 71. He was born on February 16, 1952 in Texas City, Texas to Warren and Ava (Otts) Abraham.
He was a 1970 graduate of Dickinson High School where he excelled in football and track. When he was 16, he was in a diving accident that injured his spinal cord. Being a quadriplegic did not prevent him from a tandem sky dive parachute jump in San Marcos, Texas or completing a certification in scuba diving despite his aversion to water. He was relentless in his endeavors, had a huge heart, a big smile, and was an inspiration to all. He embraced life, always facing each challenge with courage and dignity.
While he received an Associate Arts degree in Journalism from College of the Mainland, his greatest accomplishment was obtaining a Bachelor's degree in Theology from Texas Bible College. He was a member of Greater Life Church in Webster, Texas. He loved the Lord, studied the Bible, and served the Lord by searching for ways to help those in need.
He spent most of his work career in laboratory construction and laboratory equipment sales and design with extensive experience in laboratory, pharmacy, and cleanroom designs. He also worked as a Senior Technical Writer with Halliburton and as a Marketing Director for Johnson Space Center Federal Credit Union.
He was preceded in death by his parents, Warren Abraham and Ava Price.
Carwyn is survived by his brother, Stanley Abraham and wife, Joyce; nephew Bryan Abraham; step-mother Marlene Abraham; step-sister Vicki Taylor; numerous cousins; and many caring friends.
The family will receive friends on Thursday, April 6, 2023, from 10 a.m. with a Memorial Service at 11 a.m. at Crowder Funeral Home, 1645 East Main, League City, Texas 77573.
In lieu of flowers, memorial donations may be made to Greater Life Church, P.O. Box 58763, Webster, Texas 77598. Carwyn will be greatly missed by his family and will continue to be deeply loved and forever kept in their memories.