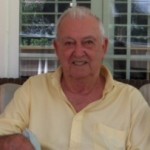 Carroll John Stanley, 86, of La Marque passed away on Saturday, May 17, 2014.
Carroll was born in Galveston on October 2, 1927, to the late Henry and Mamie Stanley. He graduated from La Marque High School and joined the U.S. Navy shortly after.
After a four-year tour in the Navy, Carroll married the late Dorothy (Herman) Stanley. Carroll retired as a supervisor at Marathon Oil with over 35 years of service. He was a member of the Masonic Lodge in La Marque for over 50 years. Carroll's fondest memories were taking his RV to San Antonio with Dorothy and camping at the Alamo KOA, where his family would frequently visit.
Carroll is preceded by wife, Dorothy; parents, Henry and Mamie; brothers, Bernard, Henry, Raymond, Bill, Joseph, and sister, Margaret Katner; and friend, Margie Graves. He is survived by sister, Fay Meier; cousin, Billy Anderson (Shirley); and three sons, Larry Stanley (Sharon) of Santa Fe, Wayne Stanley (Janis) of La Marque, and Dicky Stanley (Donna) of La Marque. He is also survived by five grandchildren, Allan Stanley, Melissa Girouard, Bryan Stanley, Julie Dickman, and John Stanley; and six great-grandchildren. The Stanley family wishes to thank close friend, Bim Crowder; caregiver, Dorothy Rhodes; and AMED hospice services.
Visitation will be held at James Crowder Funeral Home in La Marque on Tuesday, May 20th, from 5 to 7 pm, followed by a brief service with the Rev. Rex Teter officiating. Internment services will be Wednesday, May 21st, at Forest Park East Cemetery in Webster, at 12:00 pm. Donations can be sent to First Christian Church (1204 Ross St, La Marque, TX 77568).