Carroll H. (Pete) Woodling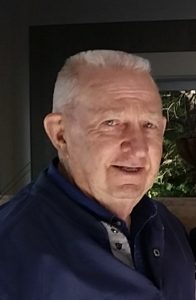 Born April 29, 1928 to Rose and William Lloyd Woodling in Milton, Pennsylvania. Pete received a degree in Physics from the College of William and Mary in 1950. He taught a short time at Newport News High School before accepting a job in 1951 with the National Advisory Committee for Aeronautics (NACA), forerunner to NASA, at Langley Research Center in Virginia. His work at NACA was primarily associated with the stability and control studies of high speed aircraft. Stability analysis and simulation of the NACA X-15 research aircraft led directly to his interests in the manned space flight program already underway during project Mercury in the late 1950's. Pete came home from work one day to share an 'opportunity of a lifetime' career move with Milly, to join the NASA group in 1962 that had moved their operations from Langley Field to Houston, Texas. Pete never failed to remind his children of how important Milly's support and encouragement was to his long and successful career. During his 21 years with NASA, in Texas, his work was associated with the development and operations of the complex, computer driven, mission simulators utilized by both astronauts and the mission control crews for all phases of mission training. High fidelity simulations were provided for each flight during the projects of Gemini, SkyLab, Apollo and the early landing tests of the Space Shuttle. He said, of course, the highlight of his career was the first lunar landing, July 1969. Pete retired from NASA in 1983. After two years with Ford Aerospace and Eagle Engineering, he and Milly both retired and moved to a small fishing lake in East Texas to spend more time together after Milly's cancer treatment. There they continued to entertain family and friends until their return to Friendswood, in 2018, due to health reasons.
Pete was a loving and devoted husband, dad, granddad and mentor. He and Milly worked joyfully to entertain family and friends at every opportunity, wherever they lived. He loved fishing and RV camping with Milly and any family or friends who wanted to join them. For he and Milly's 50th Anniversary he reminisced about fishing: Freshwater in 3 countries and 12 states including 16 man-made lakes in Texas and 12 varieties of fish; Saltwater in Gulf of Mexico (from Florida to Padre Island), Atlantic (from Virginia Beach to Florida Keys) and Pacific (from Alaska to Ixtapa, Mexico) including 8 varieties of fish and 2 varieties of crab; Most memorable were the unique, single, trips but also enjoyed the many picnic lunches on the lake with family and not catching a thing. He loved playing with little kids "because everything is new and exciting to them". He was fun-loving and silly but serious when teaching his kids the importance of honesty, integrity, responsibility and fidelity. He was a great provider and caregiver for Milly. Milly and Pete celebrated their 69th wedding anniversary on January 19, 2021 but said a tearful goodbye to his sweet life-companion and greatest friend, Milly, on June 29, 2021.
Pete is survived by his children Kerry (Bob) Aguirre, Jo (Don) Leach, Steve (Megan) Woodling; Siblings – Anna Mae Harpster and Alice Dimler; Nephews – Jeff (Pam) Harpster, Tim (Vicki) Harpster, Jay Dimler and Jim (Bobbie) Sawyer; Niece – Betsy (Jim) Baker; Eleven Grandchildren, thirteen Great Grandchildren, and three Great Great Grandchildren.
 Milly and Pete's children, Kerry, Jo and Steve consider it a blessing to have enjoyed so many years of love and security under the care of two people who lived with such passion and integrity. "We will miss you, Dad. Give Mom a hug for all of us."
The family will gather for a small ceremony in honor of Pete and Milly on June 11, 2022. In lieu of flowers, please take a kid fishing.