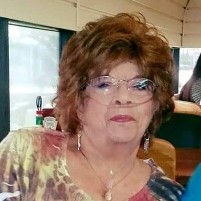 Carole Louise Russell (Gibson), 69, of League City, Texas, died peacefully on Saturday, December 16, 2017.
Carole was born in Hurricane, West Virginia to Othir Everett and Irene (Thacker) Gibson on September 30, 1948.  She married Harold Edward Russell and they had four lovely daughters – Amy (Russell) Cooper, Arin (Russell) Perry, April Russell, and Tammy (Russell) Jenkins.  She graduated high school and went to Beauty School.
Carole is survived by her husband Harold Russell, four daughters Amy Cooper (and husband David), Arin Perry (and husband Thomas), April Russell, and Tammy Jenkins (and husband Roger), sisters Doris Hickman, Nola Forth, and JoAnn Jones; grandchildren Ryan, Jesi, Christopher, Tyler, Wesley, Caitlyn, Madelyn, and Michael, five great grandchildren, and numerous beloved nieces and nephews.
A visitation will be held at Crowder Funeral Home in League City from 11:30 am-1 pm on Tuesday, December 19, 2017, followed by a funeral service at 1 pm.