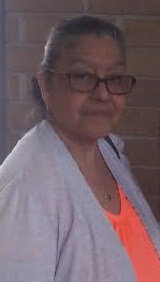 Carmen Montoya, a lifelong resident of Houston, TX passed away September 07, 2021 in Webster, TX. She was born in Houston, TX on January 24, 1951.
Carmen reunites with her husband of over forty years, David Montoya; her parents, Rafaela Mendieta Salas and Nicholas Ruiz Salas; brother, Nicholas Salas.
She leaves behind her daughters: Elizabeth Salas, and Jessica Salas, husband David Guerra; sons: Van Salas, wife Diane, and Terry David Montoya, wife Regina and their family; grandchildren: Leah Salas, Isaiah Davila, Bishop Guerra, Texas Guerra, Bella Guerra, Ace Guerra, King Guerra, Mia Salas, Van Salas, Jr., David Montoya, and Desmond Montoya, Christopher Montoya and Delias Montoya; great grandchildren: Ariana Bentley, Nori Montoya, and Aaliyah Ramirez; and her two cats, Chiquita and Minnie.
A visitation will be held from 5 p.m. to 8 p.m. Tuesday, September 14, 2021 at Crowder Funeral Home in Pearland, TX. Funeral Service will begin Wednesday, September 15, 2021 at 11 a.m. in the chapel of Crowder Funeral Home. Burial to follow at South Park Cemetery in Pearland.