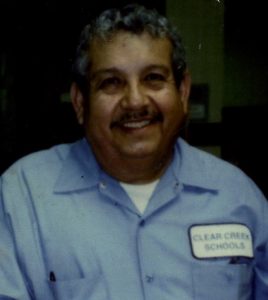 Carlos A. Brown 83, of Dickinson, Texas passed away July 2, 2018. He was born July 22 1934 in Brownsville Texas to parents Luis and Benita Brown. A loving husband, father, brother and uncle, he entered into eternal rest surrounded by his family.
The eldest of 5 brothers and sisters he moved to League City where he met, fell in love and married the love of his life, Raquel Segura and had 6 children.
Mr. Brown was employed in several types of jobs in many different fields and then landed a job with Clear Creek Independent School District in the maintenance department, where he worked until his retirement.
He loved his family dearly and was kind to everyone that he crossed paths with.
Mr. Brown is proceeded in death by his son Rodolpho "Rudy" Brown, daughter Ninfa Brown, father Luis Brown and mother Benita Alvarez Brown.
He is survived by his wife of 61 years Raquel Segura Brown, step-daughter Linda Trevino (husband Pedro) of League City, daughter Diana Brown (husband Martin Salas) of Dickinson, son Charlie Brown (and wife Kyeongsuk) of Virginia, daughter Eva Behle (husband Jack) of Dickinson, and daughter Patricia Brown of Dickinson.
He was a grandfather to 9 and great-grandfather to 22.
Visitation will be held from 5 pm to 7 pm with a Rosary beginning at 7 pm on Thursday, July 5, 2018 at Crowder Funeral Home in Dickinson, Texas. Funeral Services will be held at 11 am on Friday, July 6, 2018 at Shrine of the True Cross Catholic Church in Dickinson. Interment will follow at Forest Park East Cemetery.
Pallbearers are Johnnie Medina Jr, Mike Beasley, Joseph A Behle Sr., Carlos Hernandez, George Weber Jr, and Luis Duran.
Honorary Pallbearer Abel Flores Sr.