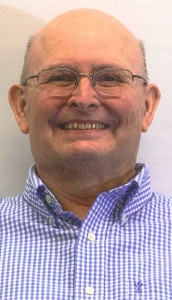 Carl Gregory Syslo, at the age of 65, passed away on March 26, 2015 in Webster, Texas. He was born on October 30, 1949 in Portsmouth, Virginia to Joseph Albert and Rachel Alberta Syslo. Carl is survived by: his wife, Peggy Louise Syslo; daughter, Khala Renee Syslo;  sons, Gregory Bryant Syslo and Carl Jason Syslo; brother, Joseph Syslo; grandchildren, Sydney Leigh Syslo, Addison Elizabeth Syslo, Peyton Louise Syslo, and Claire Averie Syslo and numerous family members and friends.
When his nation called he answered by joining the United States Army. He earned a Bachelors of Science in Botany and Geography from the University of North Alabama.  Carl worked as an Engineer for Automated Logic.  He had a passion for coins, water, sailing and enjoying life and loved to spend time with his wife Peggy and his grandchildren.
Visitation will be held on Monday, March 30, 2015 from 11:00 AM – 12:00 Noon followed by a Funeral Service at 12:00 Noon at Crowder Funeral Home, 111 East Medical Center Blvd, Webster, Texas. In lieu of flowers those wishing to make a memorial donation in Carl Gregory Syslo's memory may do so to Deke Slayton Cancer Center.