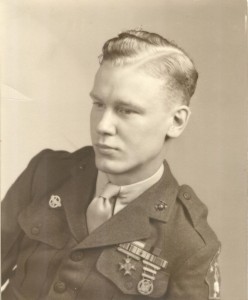 Carl Clayton Timm, 92, passed peacefully on March 11, 2015. He was born in Syracuse, New York on April 5, 1922.
Carl is preceded in death by his wife of 60 years, Lois Gwynn Timm, son Robert D. Timm, brother Donald Timm and parents Carl A. Timm and Myrtle Revior.
Carl is survived by daughter Donna Bennett and husband Dennis, son Robert C. Timm and wife Connie, son Charles Timm, daughter Allison Timm and daughter Joanne Timm. He is also survived by grandchildren James Anderson, David Bennett and wife Sara, and Amanda Timm. In addition to sister-in-law Marion Timm Ford, nieces Karen Timm Burwell, Linda Timm Hart and Robin Gwynn and nephews James Gwynn and A. Thomas Gwynn.
He proudly served in the United States Marine Corps during WWII, was a Master Mason and member of the Fort Brewerton Masonic Lodge #256 in Central Square, NY and a Lifetime Member of the Brewerton Volunteer Fire Department in Brewerton, NY.
He enjoyed a career with Crouse-Hinds in Syracuse, NY, before his service in WWII and once again after his return home. He then enjoyed a long career with Hughes Tool in Houston, TX.
Beyond family, Carl's passions included woodworking and furniture restoration, anything related to golf, and anything related to World War II. We have no doubt he is continuing to fulfill these passions in Heaven.
The family wishes to express our gratitude for the love and support from the numerous friends who have become extended members of the Timm family through the years. We are so very blessed.
A celebration of Carl's life will be held at Crowder Funeral Home on Saturday, March 28, 2015 at 2:00 p.m.
In lieu of flowers and to honor Carl's memory, the family requests donations please be made to establish the Carl C. Timm Memorial Scholarship for Veterans at University of Houston-Clear Lake. Contributions may be made online at: https://giving.uh.edu/clake/ or by mail to: University of Houston-Clear Lake / 2700 Bay Area Blvd. MC 318 / Houston, TX 77058
Carl will be greatly missed by all who had the honor to know him. May every golf shot now be a hole-in-one…Semper Fi!!!