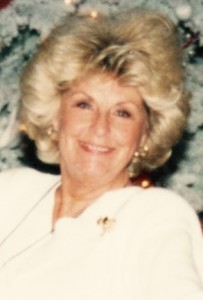 Camilla Faye Duplantis, 87, of Santa Fe, Texas passed away peacefully on Saturday, August 20, 2016 in the arms of her husband Lyman Duplantis.
Cam was a sweet, loving and witty woman who enjoyed spending time creating beautiful flower and vegetable gardens. She was known for canning some of the best dill pickles around, and you could find her every summer lining up mason jars in her kitchen that always smelled like home. Cam loved her children, grandchildren, her brothers and sisters, and mostly her husband of 50 years, Lyman.
Cam was a go-to person when someone was sick or dying and could always be counted on to lend a helping hand. She raised and or guided 6 kids and drew valuable and unforgettable ink watches and jewelry on a slew of grandkids.
Cam is preceded in death by her parents, Gertrude and Fred Bass: sister, Nellie Medford and stepdaughter, Kristi Sulak.
She leaves behind her children: Linda Fonville, Jim Fonville, wife, Brenda, Kim Fonville, wife, Barbara, Traci Fonville; stepdaughter, Kandi Duplantis, partner, Tracy McCutchin; grandchildren: Shelly Matthews, husband, Greg, Adrienne Fonville, J.J., Michael, Elizabeth and Kimberly Fonville; great grandchildren: Brandon Mann, Dalton Jones, wife, Ashley, Clayton and Brynn Traylor, and great great grandson Jaxon Jones.
A memorial will be held at 11am on Saturday, September 10, 2016 in the chapel of Crowder Funeral Home in Pearland located at 2422 East Broadway; the services will be officiated by Jeff Spielman, Senior Minister, Arcadia Christian Church.