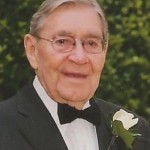 Burke Steele Vermillion, 101 of Austin passed away April 9, 2014 at his residence. He was a formerly from La Marque, Texas.
He was born July 23, 1912 in Hansonville, VA to Albert and Nannie Vermillion. He was the third of five children.
Burke served 29 ½ years in the United States Navy serving in WWII and attained the rank of Lieutenant Commander. He learned radio engineering when it was a new technology in the early 1930's and spent his career as an expert in the field of communications. After retiring from active duty, he worked at the Pentagon for the Defense Communications Agency. Upon his retirement, he received the Exceptional Civilian Service Award from the Department of Defense to honor his 35 years of faithful government service and significant contributions and leadership.
He was a beloved husband, father, grandfather, and uncle. He took great care of his family and inspired all around him with his unflagging good spirits, positive outlook, and integrity.
He is preceded in death by his wife Yvonne Vermillion, daughter Marie-Anita Gessner and son Father Rene' Vermillion.
He is survived by his grandchildren; John B. Gessner, Marie-Jocelyne Bay and Marc Gessner; great grandchildren Madison Gessner and Nicholas Bay, as well as nieces and nephews and their families.
Visitation will be Friday, April 11, 2014 from 5:00pm – 8:00pm at the James Crowder Funeral Home in La Marque. Funeral service will be on at 2:00pm on Saturday, April 12, 2014 at the funeral home. Burial will follow at the La Marque City Cemetery.