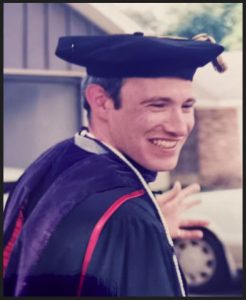 Bruce Andrew Munson, of Houston, Texas, died quietly in his home August 7, 2023.
Bruce, age 58, was born Nov 7, 1964 in Trenton, Michigan to Robert Craig Munson, Attorney at Law, and Katherine B Munson, bookkeeper and advocate for enfranchisement as president of a Michigan chapter of the League of Women Voters. Bruce's father died prematurely, and Bruce and his mother moved first to the Chicago area and then to Jacksonville Florida for his teenage and young adult years. Bruce was a short order cook and a sought‐after shady tree mechanic to afford his college tuition.
Bruce graduated from the University of Florida with a Bachelors of Science of Civil Engineering, '88, with high honors, and again from University of Florida with a M.S.C.E,'91, with high honors. Bruce and his wife (now former wife), Suzanne Wentworth of Maine, relocated to Louisiana when Bruce was hired by Chevron Petroleum Corp, first living in New Orleans and then Lafayette. They raised Shar Pei puppies, enjoyed music,
golf, and deep-sea fishing on the Louisiana Gulf shores.
Announcing, in his mid-thirties, "I can turn forty without a law degree or I can go to law school and turn forty with a law degree," he transferred to a different Chevron division located in Houston and enrolled in night school at the University of Houston Law Center, following in his father's footsteps. Bruce graduated in 2001 and earned his Juris Doctor, summa cum laude.
Bruce opened the Munson Law Firm and practiced personal injury law. Bruce was brilliant, argumentative, infuriating, compassionate, hilarious, and tender. He was a fierce advocate for the law, exhibited compassion for his clients, and was known in the legal community as both a great closer and a rainmaker. Bruce loved to talk and argue about the law and history, in any form, and especially about Supreme Court constitutional cases and precedents.
Bruce loved life with a passion, being overheard daily, "Let's have a good time!" He enjoyed golf, riding motorcycles, driving his Corvette, and rafting in the hill country. The music was always on, may rock and roll never die. Bruce enjoyed movies and added, "But read the book second!" Bruce read voraciously and loved to discuss and dissect the novel's plot. Bruce skied annually in Tahoe and loved the Heavenly Ski Resort. Bruce loved the beach, especially Jacksonville Beach.
Bruce's happiest times were at the dinner table surrounded by family and friends, enjoying exquisite epicurean cuisine with great pairings. Bruce was generous to all around him and always told you he loved you.
Bruce was preceded in death by his father, Bob Munson; his aunts and uncles William & Sally Munson, Charlotte & Lloyd Fassett, and Dimitri & Phyllis Sergay; his cousins Sara Jane (Munson) Hartman, Tarik Sergay, and Charilynn Fassett; and his brother-in-law Paul Nofs.
Bruce is survived by his mother, Kathy Munson, of Jacksonville Beach; his siblings Craig (Josephine) Munson, Meg (David) Lentz, Beth (Paul) Nofs, and Victoria (Ronald) Robinson; and his cousins Andrew (Susan) Munson, Alex Sergay, Tim (Jenny) Sergay, Juliette (Bruce Cannon) Fassett, Lloyd (Suzanne Gutierrez) Fassett and
numerous nieces, nephews, and second cousins. To know Bruce was to love him.
Bruce, rest in peace.