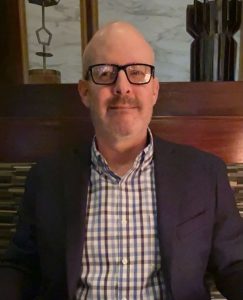 Brian Richard Ausmus was born on February 8, 1971, in Blue Island, Illinois to Alice Faye Conley and Wayne Richard Ausmus.  He took the hand of Jesus on February 18, 2023, at the age of 52.
He was a resident of Pearland, Texas for 30 years.  During his time, he was owner of Amigos Restaurant back in 2009.  He along with his wife Tisa, opened and owned RSL Catering for five years.  It was then, when his cooking skills came to light, and if one was lucky to ever taste some of the food, you considered yourself blessed because it was "oh so good".
Aside from cooking, his other pastimes included being an all-around sports fan but partial to baseball and the Chicago Cubs.  He enjoyed playing poker with his best friend, Dex , and word has it that he was a strategic player.  He did this for fun and relaxation.  He had many friends and never met a stranger so if he ever got your ear, you were there for a long, long, time because he surely had the "gift of gab".  He was a member of Calvary Houston for 13 years where he connected with many people of his same beliefs.
Brian will be foremost remembered for his immense faith in God.  Even during his battle with cancer, it never wavered.  He exemplified such courage, determination, and strength setting a beautiful illustration of what belief and devotion are.  Despite how hard his journey got, he never gave up….and in the end, he won the battle, now resting in the arms of Jesus.
Brian is survived by his wife of 9 years, Tisa White Ausmus; his daughters, Alicia (fiancé Justin) Ausmus, Carah (James) Blackmore, Erika Ausmus, Clarissa (Bryan) Ausmus, and Alexandra (Henry) Ausmus; son, Dylan Ausmus; grandchildren, Gage, Everett, Braxton, Bentley, and Iris; father, Wayne (Faye) Ausmus; grandmother, Martha Pitts; sister, Bridget Ausmus; brothers: Thomas Ausmus, James Seng, Jonathan (Grace) Ausmus, Christopher Ausmus (fiancée Adria), Andrew Ausmus (fiancée Niki); and numerous extended family and friends.  He is preceded in death by his mother, Alice Faye Conley; sister, Allison Ausmus, and Aunt Roberta Joyce Lesner.
A Celebration of Brian's life will be held on Friday, February 24, 2023, at Calvary Houston, 3700 FM 528 Rd, Friendswood, TX 77546.  Visitation will begin at 10:00am followed by the service at 11:00am.
In lieu of flowers, please make donations to:  Hope for Stomach Cancer @ stocan.org in Brian's memory.
The family would like to extend their heartfelt thanks to Dr. Meerasahib, Leann, and Gina of Texas Oncology for their support and care given during this battle.