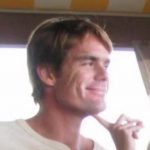 Brian Flick, 45, of League City, TX passed Saturday July 6th, 2019. Brian was born to Paul & Jeanette Flick at St. Mary's Hospital in Galveston, TX on September 28th, 1973.
Brian is survived by his parents, Paul and Jeanette Flick of League City, TX previously of La Marque, TX, Brother Steven Flick and wife Kerrie, sister Suzanne Scalise and husband Stephen, and his nephews Logan, Landon, and niece Michele Scalise. He is also survived by numerous uncles, aunts, and cousins.
Brian is a 1992 graduate of La Marque Highschool he also attended Blinn College at Bryan/College Station where he was a member of the Delta Upsilon Fraternity.
Brian loved his family dearly and enjoyed spending time with his nephews and niece playing pool. He also enjoyed deer hunting on his family's land in South Texas. Brian's great sense of humor was well known. Brian always had a kind smile and a kind heart to anyone he would meet.
The Family will receive friends on Wednesday, July 10, 2019 at 3:30pm with a Ceremony at 4 o'clock at Crowder Funeral Home, 1645 East Main, League City, Texas  77573.
In lieu of flowers the family asks that you donate to First Lutheran Church of Galveston and MHMR, Gulf Coast Center, 10000 Emmett F Lowry Expressway, Suite 1220, Texas City, Texas  77591.