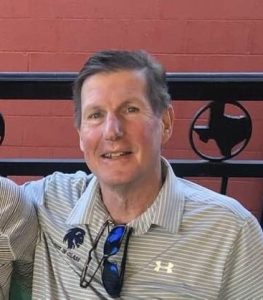 Brent Alan Bentley, of Texas City, passed away surrounded by family on Tuesday, November 29th, at the age of 62. He was born on August 19th, 1960, in Texas City, Texas to John and Melba Bentley.
From a young age, Brent never met a stranger. He loved people deeply and always wanted the best out of life for everyone he met. He met some of his closest friends in his school years at Texas City High School and during his decorated baseball career. During his senior year of high school, Brent led his team to win a district championship and he was even credited with the win. He studied Industrial Technology and was a member of the baseball team at the University of Houston and graduated in 1983. He played summer baseball with the Clarinda A's in Clarinda, Iowa where they won the 1981 NBC National Tournament Championship. He went on to establish a forty-year career in petrochemical sales. Brent was an avid sports fan. Nothing topped his love for the Clarinda A's, the Dallas Cowboys, and the University of Houston Cougars. Many of his best family memories were spent cheering on the Cougars in football, basketball, and baseball. Brent was also an avid golfer, maybe not a good one, but he loved his time on the course. He always enjoyed Sunday afternoon golf with Lauren and Saturday morning rounds with his friends. He said this is where he felt the most peace.
Brent was preceded in death by his parents, John and Melba, and sister, Teri. He is survived by his wife, Mary, and their daughter, Lauren, along with several nieces, nephews, and cousins. The family will receive friends and family on Sunday December 4th at 1:00pm with a Celebration of Life ceremony at Crowder Funeral Home in League City, Texas with a reception to follow at Bay Harbour United Methodist Church.
The Bentley Family would like to extend their heartfelt thanks to the ICU staff at HCA Clear Lake for taking such wonderful care of Brent in his final days. They were exceptionally kind towards him, Mary, Lauren, and the family is forever in debt to them.
In lieu of flowers, the family requests donations to the Clarinda A's Baseball Team.
Clarinda A's
225 E Lincoln Street
Clarinda, Iowa 51632
To view service online please click on the link below :