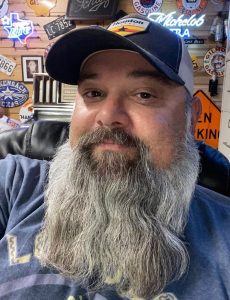 Brandon Keith Williams, 47 of Kemah, passed away peacefully at HCA Hospital in Clear Lake on August 31, 2023.  Brandon was born August 15, 1976 to Denice and Teddy Williams in San Antonio.  He loved camping with his daughters Avery and Ally.  He enjoyed hunting trips with Avery, and digging for crystals in Arkansas with Ally.  He loved a wide variety of music, and was a beloved volunteer at Stewart Elementary.
He worked to live, not lived to work, and in his spare time he handcrafted many beautiful wood pieces ranging from coasters to cutting boards to wooden art murals, and large custom bars. His interests and talents also included genealogy, in which he helped numerous strangers find their blood relatives.
He loved firing up the smoker on the weekend, always tried to get first dibs on deliveries of sought-after bourbons at the local liquor store, and was a diehard Astros fan.  He never met a stranger, and won people over with his infectious laugh, sense of humor, and all-around welcoming personality.  There's a saying about living your life in such a way that if someone spoke poorly of you, no one would believe it.  Brandon was that person.
Cherishing his memory, he leaves behind his loving wife of 15 years, Erin Williams, and daughters Avery and Ally Williams.  He also leaves behind his parents, Denice and Ted Williams, sister, Melissa Williams, niece and nephew, aunts, uncles, and numerous extended family and friends.
In his honor a visitation will be held Thursday, September 7, 2023 from 5-7 pm in the Crowder Funeral Home Chapel Dickinson, Texas with a funeral service Friday, September 8 at 10:00am. Interment will follow at Mt. Olivet Cemetery Dickinson,Texas