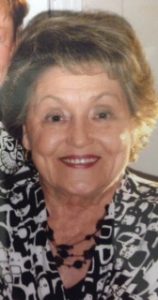 Bonnie Ruth Love came into the world on May 11, 1935, in Eupora, Mississippi, surrounded by loving hands and smiling faces.  She was the youngest daughter of Tom and Nora Lee Love.  She grew up on a farm in a small rural town with her five brothers and sisters. Sisters Peg, Billye, and June, and brothers Tom and Jeff worked hard to help their parents to make life run smoothly.   In later years, her siblings would teasingly tell stories around the supper table of how Bonnie got off easy, being the baby girl, but they all knew everyone had their roles, and none of them were easy.  Yet, all of them did their chores willingly and their small home was filled with respect and love for one another which would last their entire lives.  Tom and Nora Lee's children were raised with discipline, but also good humor and all of them were taught southern hospitality.  Later in life, they would instill those values in their own children.  Family was everything.
  They soon moved to Coffeeville, Mississippi where Bonnie would attend high school.   She did well in school and was on the cheerleading squad.  She was a beauty even then and full of fun and personality, with an infectious smile.
After high school Bonnie moved away to attended business school, where she graduated and began working.  It is here she would meet the love of her life, Don Peterson, also from Mississippi and a recent West Point graduate.  He would soon join the Air Force.
They dated, soon married and began their almost 60 years together.  They had three children; Don Jr, Jean, and Shari.  Since Don was in the Air Force the family moved frequently and Bonnie quickly adapted to being a great military wife.  Though Mississippi would always be referred to as "home" Bonnie loved traveling with Don across the country to all the places they lived.  Whether living in Alabama, Ohio, California, Arizona, Louisiana or Tennessee to name a few, that personality and smile of hers served her well in making life long friends from each stop along the way.  Don would often have to go "TDY" so Bonnie was in charge of the home and making sure the children adjusted well in school, made new friends and got involved with activities after school as well.  This would not be a problem for her, in fact she excelled in this area.  She was the perfect mom.
When Don was selected by NASA for the Space Shuttle program the family would move to Seabrook, Texas where they would remain the rest of her life.  Here she watched her kids grow up and graduate high school.  She filled her days loving and supporting her husband and attending all necessary events with him.  She loved the ladies' groups and bridge groups she belonged to. But what she loved more than anything was cheering on her kids at their events.  Whether it was baseball, volleyball, swimming, diving, cheerleading or other activities they were participating in, she was there, always supportive and encouraging. She loved when their friends came to the house and always invited them to stay for a meal. It's that southern hospitality thing.
After her children moved out, got married, and went on with their own lives, her favorite thing to hear was a voice  calling out "BonBon?"  That meant her children and grandchildren and more recently great grandchildren had come to visit.  It was what she and husband  "Daggy" woke up thinking, smiling and talking about every single day.
Bonnie left a warm, caring impression on  all she met.  She left this world August 20, 2017 the way she came into it, surrounded by loving hands and smiling faces.
Bonnie is preceded in death by parents; Tom and Nora Lee Love, Sisters; Peggy Love Bruce, Billye Love Hise, and June Jung, Brother; Tom C Love.  She is survived by Husband; Donald H Peterson, Brother; Jeff Love, Brother in laws; Gil Peterson and Bill Jung, Sister in law; Montez Love, Son; Don Peterson Jr (JoAnn), Daughters; Jean (Bob), and Shari, Grandchildren; Shannon Peterson Hathaway (Joe) Katie Peterson Senor (Jordan), Max and Jeff Stone, Great Grandchildren Molly Kate and Macy Senor, and Laney and Ella Hathaway and numerous nieces and nephews and other family members she loved.
A memorial service will be held Wednesday, August 23, 2017 at 6pm with a reception to follow at Crowder Funeral Home, 111 E. Medical Center Blvd., Webster, TX 77598.