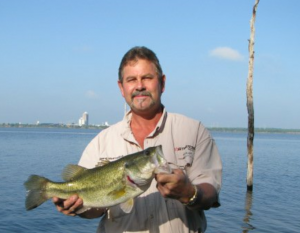 Blane Romaine, 57, resident of San Leon, Texas passed away January 19, 2016 in Houston, Texas. He was born March 20, 1958 in Crowley, Louisiana He was preceded in death by his parents Euell and Thelma May Romaine. He was a member of the Baptist faith. Blane was a Paran to Keegan Romain and Ryne Tanner.
Big Daddy Blane Romaine is finally going to be able to catch the biggest bass of his life. He was a wonderful father, a loving husband, an awesome poppy, and a loyal friend. He always had a smile on his face and never met a stranger. He loved to fish, hunt, cook, and go camping. He will be greatly missed by many people. Big Daddy's fishing with the Angels and may God bless.
He is survived by his loving wife, Bonita Romaine; daughters, Melissa Murphy and Donovan, Chelle Holy and husband Dennis, Megan Romaine and Sylvester, and Tabathia Romaine and Bubba; sister, Debbie Tanner and husband Earl; brother, Brad Romaine and wife Shelly; grandchildren, Alexis, Mason, S.J., and Jaida; two nieces, Leah and Jill; two nephews, Keegan and Ryne; and numerous other family members.
A visitation will be held from 3 pm- 5 pm on Friday, January 22, 2016 at Crowder Funeral Home in Dickinson, Texas followed by a service beginning at 5 p.m. Burial will be held at 2 pm Saturday, January 23, 2016 at Maxie Cemetery in Maxie, Louisiana.
In lieu of flowers, memorial donations may be made to the M.D. Anderson Cancer Society, P.O. Box 570127, Houston, TX 77257-0127.