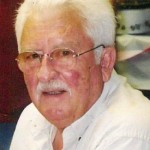 Billy Ray Persky, 76 passed away Tuesday, January 14, 2014 at his residence in Texas City. He was born April 15, 1937 to Walter and Gladys Persky in Holland, Texas. He later moved to Texas City and married his wife of 55 years Sandra Brown Persky.
Billy was an Electrician for the Local Union 527, owned and operated a shrimp boat and run Perksy's Pier on Moses Lake. He loved fishing, gardening and just being outdoors.
He is preceded in death by his parents and son-in-law, Val Angelle.
He is survived by his wife Sandra Persky of Texas City; daughter Denese Angelle; sons and daughters-in-law; Scott and Shelly Persky, Billy and Cathy Persky and Steven and Melanie Persky; his sister Betty Emal; twelve grandchildren; Lindsay Grueneberg, Val Angelle, Lauren Angelle, Tasha Rickaway , Prescott Persky, Tina Persky, Justin Canter, Tyler Kuntzman, Ashley Persky, Jodi Chapman, Tristan Persky and Amanda Persky; eight great grandchildren; Waylan Grueneberg, Landyn Persky, Brandon "Junior" Ray, Isaac Canter, Justin Canter, Natalie Persky, Ariana Rickaway and Aliyah Rickaway.
Per Billy's request no services will be held.