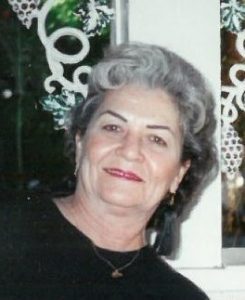 Billie Ruth Watson, 89, of Texas City passed away on Sunday, August 5, 2018 in Pasadena, Texas.  She was born October 6, 1928 in Mt. Enterprise, Texas to William and Ethel Barker.
Billie was a longtime resident of Texas City.   She was a Friend of the La Marque VFW Post 8248.
She is preceded in death by her parents and son Joe Culp.  Billie is survived by her daughters Debbie Johncock (Allan) and Janet Treece, sister Peggy Allison, five grandchildren Melissa Emord and Pierce, Brandy Wagner and Floyd, Tyson Johncock and Amy, Michael Johncock and Cindi and Xan Difede and Jerry, nine great grandchildren, Stephanie, Samantha, Jonathon, Chance, Chelsea, Brett, Lindsey, Ally and Meredith, great-great granddaughter Leighton, niece Rita Gail and nephews Fred and Randy.
A visitation will be on Thursday, August 9, 2018 from 5:00pm – 8:00pm at the Crowder Funeral Home in La Marque.  A graveside service will be at 2:00pm on Friday, August 10, 2018 at Forest Park East Cemetery in Webster, Texas.