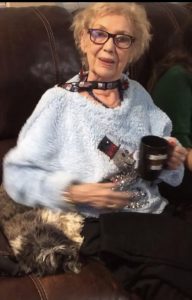 Billie Jean Marshall, 85, a resident of Pearland, Texas since 1972 passed away on August 18, 2021 in Pearland, TX. She was born in Center, TX on June 29, 1936.
Jean reunites with her husband Gary Marshall; her mother, Loretta Golden, father JM Peveto; sister, Beverly Rigby; brother, Gerald Peveto.
She leaves behind her daughter, Alicia Marshall Loya, husband Joe Loya; grandchildren: Joseph Ryan Marshall Loya, wife Kylie, Jordan Alexander Loya, Carly Newberry, and Allyson Paige Loya; great grandchildren: Sivan Loya, Weston Loya and Annalise Loya; sister, Sue Carswell.
Special thanks to David, Cindy and Matthew Egan long time neighbors for their care and assistance. A special thank you to Jackie Johnson, she provided daily essential care that gave Jean and the family peace of mind.
A visitation will be held from 10 a.m. to 11 a.m., Monday, August 23, 2021, with a service to begin at 11 a.m. in the chapel of Crowder Funeral Home in Pearland, TX. burial to follow at South Park Cemetery.