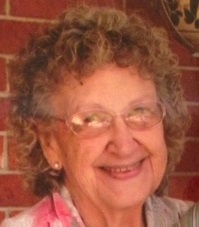 Beverly Jane Stone Paul, 86, passed away on November 20, 2016 in Houston, Texas. She was born on March 20, 1930 in Vinita, Oklahoma to Alvin Charles Stone and Viola Ruth Smelser. Beverly was the youngest of ten children.
Beverly was preceded in death by her husband, Edward Robert Paul, the love of her life, who was taken from her suddenly in 1973.
Beverly is survived by her four sons, Ken Paul and his wife Kim; Dennis Paul and his wife Eliza; Don Paul and his wife Jodi; Kris Paul and his wife Lisa.
Her Grandchildren Kris and Amy Paul Peterson, Neil and Heather Paul, Ethan and Melissa Paul Patton, Joseph Paul, Emily Paul, Elizabeth Paul and Noah Paul.
Her Great Grandchildren Brynlee Dawnn Patton, Harper Faith Paul and Doodles Peterson.
Beverly graduated from Reagan High School in Houston, Texas. She was a devoted mother to her sons and a wonderful grandmother to her grandchildren.