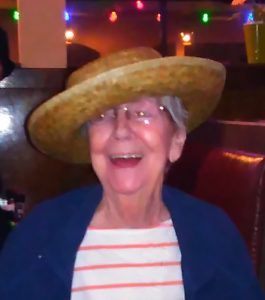 Bettye Jane Reed, 83, of Texas City, passed away Friday, February 3, 2017 at her residence. Bettye was born January 4, 1934, in Birmingham, Alabama, to Arnold and Vivian Bearden.  She has been a resident of Texas City for over 30 years.  Bettye was an Avid Bowler for over twenty years taking part in the Ladies Majors Bowling League on Thursday Nights.  She loved baseball, especially her Astros and supported all of her Louisiana sports teams.  Most of all she loved to go gambling.
Bettye was preceded in death by her husband, LeRoy Reed and one step-son, Bobby Reed; and two grandsons: Nito Guajardo Jr and Joshua Reed.
Bettye is survived by four daughters: Marcie Guajardo and husband Nito, Renée Young and fiancé Carey Walker, Lillian Sheridan and husband David, and step-daughter Debra Quiacusan and husband Gene; Three sons: Roy Reed and wife Tina, Darrell Meacham, LeRoy Reed, Jr. and wife Sherri; one sister: Mary Heckman; four brothers: Gary Bearden, Glen Bearden, Buddy Bearden, and Jack Bearden; thirty five grandchildren and forty one great grandchildren.
A visitation will be held from 5:00pm to 8:00pm, Tuesday February 7, 2017, at James Crowder Funeral Home, La Marque.  Services will be held at 10:00am on Wednesday February 8, 2017 at the funeral home.  Burial will be at Houston National Cemetery at a later date.
Honorary pallbearers will be her grandchildren.