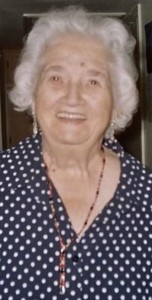 Betty Jo Khan, 86, passed away on May 24th, 2015 in Houston, Texas. She was born on February 23, 1929 in Mayfield, Kentucky to Artie and Clara Mae Harrison. Betty Khan is survived by her son, Steven Khan; daughter Tamina Ledger; grandchildren, Jeffrey Khan M.D., Chelsea Khan, Yana Grodskaya, Christina Hamre, Nicholas Ledger, Elizabeth Ledger; great grandchildren, Gabriel, Anyssa, Mathew and Nathan Hamre; and numerous family members and friends.
She graduated from High School in Kentucky and then made her way to California in the early 1950's where she eventually met and began working for the love of her life, Johnnie Khan. They were married in 1955, lived and farmed most of their lives on their vineyards in and around Lodi, California. They were still married 48 years later when Johnnie passed away in 2003. She had a passion for baseball, cats, games shows, card games, word puzzles and her family.
A memorial will be held on May the 27th, 2015 at 6:00 p.m. at Crowder Funeral Home in Webster, Texas.