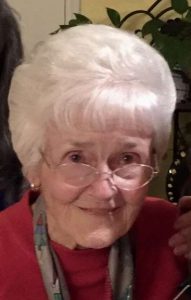 On Friday, August 7, 2020, there are no words other than we lost one of our most cherished possessions; our Wife, Momma, Nanny, Big Fat Nanny (you'd have to know the story), Aunt, Friend and Wonderful Cook.  Betty passed away leaving her husband Ysidro L. Cantu (sometimes known as Y or Cantu, Turkey and Teddy Bear too) from Texas City, TX. She also leaves her daughters Linda Elrod Beglin and Deborah Elrod Hays (Rodney) both of Canyon Lake, TX.
Step children, Rosie Cruz (Hector), Ysidro Cantu, Jr (Rachel) and Teresa Guzman all of Texas City, TX and two deceased Gloria and Glen.
Grandchildren, Jeri Logan Sims (Shawn), Tera Tullos Wicker (Larry), Penny Logan Edwards (Kenneth), Teri Tullos Niedermeyer (Jim) and Lindsey Williams Schaller (Dave), Irene Lopez (Shon), Corina Mayfield (Josh), Timothy Cantu (Mikayla), Carolyn Cruz Herrington (David), Nelita Cruz Herrera (Frank), Jervaise Guzman, Santos Guzman and Andrea "Nikki" Bazan (Juan).
Great grandchildren, Kayla Scott Brooks (Justin), Taylor Logan Rideau, Coy Logan Edwards, Colton Riley Edwards, Tyler Robert Niedermeyer, Dylan James Niedermeyer, Anderson DeLaine Schaller, Leanne Lopez, Lorian Lopez, Layna Lopez, Shon Lopez, and Livia Lopez, Jace Mayfield, Layla Guzman; Abigail Herrera, Luke Herrington, Kayley Herrington, Gabriel Bazan, Adam Bazan and Marco Bazan and great-great grandchildren, Marley Jane Brooks, Jaylah Denise Rideau and Phoenix Reed Brooks.
Born May 1, 1931 to Jasper James and Rosie Mae (Alexander) Tyler in Foreman, AR, Betty was the 6th of 9 children, 4 boys and 5 girls; William Tom Tyler, James Henry Tyler, Velma Mae Scarborough, Katie Bell Simmons, Loyd Joe Tyler, Robert Lane Tyler, Dorothy Cox and Juanita Carlson. Dorothy of Maud, TX is the only sibling that remains alive.
Betty married Gale Elrod at the age of 17 and raised her daughters in Channelview, TX.  Always involved with the girl's activities, a dance recital wasn't missed for 41 years.  She later married Ysidro spending the rest of her life in the Texas City, Dickinson and Alvin areas.
Betty loved to cook and bake and was always quick to offer you something to eat at her home. Thanksgiving and Christmas favorites were definitely the best Cornbread Dressing ever along with Spice Bars, Old Time Brownies, Sweet Potato Pies and Strawberry Cake to name a few. Let's not forget her fried okra and potatoes in bacon grease too. Betty worked many years as a meat wrapper for several grocery store chains, retiring from Texas Super.
She was such a wonderful, truly beautiful, and generous person who will be missed on this earth until we see her again.  Our hearts are broken.  Rest in Peace Nanny.