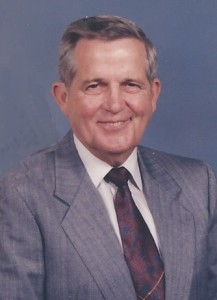 Bert A. Lindsay passed away peacefully December 14, 2014. He was born December 10, 1926 in the First Ward in Houston, Texas. He attended Sam Houston High School where he played football and ran track. Bert studied at Texas A&M, and left to serve in the Army during WWII. He later returned to graduate from A&M in 1947. When he was working on his Masters at the University of Texas, he met and married his beloved wife of 57 years, Frances Mendle. They moved to Galveston, and he began a long career with American National Insurance Company. Bert always strove to learn, earning his CLU, ChFC, and FLMI certifications. He also obtained his MBA from the University of Houston at Clear Lake. Bert loved his Aggies, traveling throughout Europe with Frances, and volunteering at the Grand Opera House. He was a strong Christian, and was active at both St. Michael's Episcopal and Trinity Episcopal churches, where he loved to sing loud and proud. Bert loved his family, church family, and neighbors, often disappearing for hours to help someone in need. Until he moved to Galveston three years ago, he could be seen walking through the streets of La Marque, picking up cans for savings bonds for his grandchildren.
Bert was preceded in death by his wife Frances, parents Edna and John Lindsay, brothers Jack and Pat, and sister, Elizabeth. He is survived by his three daughters: Liz Paris (Danny), Janet McDaniel (Jack Wagner) and Ellen Keller (Stewart) three grandchildren: Leo McDaniel III (Natalie) Lindsay Chapman (Steven) and Allison Keller, and one great-grandchild Parker McDaniel.
We would like to thank Dr. Hommel and the special caregivers who took such loving care of Bert: Deb, Christine, Maria, Lillie, Jackie, and Ashlyn.
Visitation will be at Crowder Funeral Home in La Marque, Thursday, December 18, 2014 from 5:00pm – 8: 00 pm.
A celebration of Bert's life will be at 10:00am on Friday, December 19, 2014 at St. Michael's Episcopal Church of La Marque with Father Bob Flick officiating. Burial will follow at Galveston Memorial Park in Hitchcock, Texas.
In lieu of flowers, donations can be made to St. Michael's, Trinity Episcopal, or Parkinson's Research.