Bernice H. Theiler O'Meara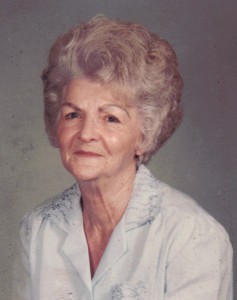 BERNICE H. THEILER O'MEARA, 93 of Texas City passed peacefully into the awaiting arms of her Saviour and took her first breath in Paradise on March 20, 2015 at her home that she shared with her daughter Pamela in Texas City.
She was born July 17, 1921 to Jacob and Anna Pearl Theiler of La Marque. Bernice was one of the founding members of First Christian Church on Ross St. in La Marque and the proud Matriarch of the O'Meara family.   With her husband, Jim, she owned & operated B & J's Family Inn & Jim's Save 5 in La Marque. Known for her delicious home-made meringue pies, people would come from miles around for a slice of pie and a cup of coffee. Bernice was a devoted Christian, wife, mother and granny.
Bernice is preceded in death by her loving husband, James "Jim" O'Meara; daughter in law, Terri B. O'Meara; grandson, Billy Don Selman, Jr., and her eight (8) siblings.
She is survived by her children: Anna Lucille O'Meara, James R. O'Meara, Jr. (Vicki), Patricia Selman (Bill), Daniel A. O'Meara, Sr., Peggy Flores and Pamela Pixley; grandchildren: Karen Selman-Schultz, Andrea "Andy" Bozeman, James Frederick O'Meara (Sherry), Daniel Porter O'Meara (Maria), Ryan Hasselmeier (Nancy), Matthew Pixley, Ashley O'Meara, Christopher Cortez (Vanna), Daniel A. O'Meara, Jr., Nathaniel Pixley, and Christina Cortez; twenty-three (23) great grandchildren & six (6) great great grandchildren and numerous nieces, nephews and cousins.
Pallbearers: Billy Don Selman, Sr., Bill Liefert, Nathaniel Pixley, James Frederick O'Meara, Daniel Porter O'Meara, Christopher Cortez, Daniel A. O'Meara, Jr, and Ryan Hasselmeier. Honorary pallbearers: Matthew Pixley, Stephen Schultz and Bryan Lauzon.
Bernice's family would like to express their gratitude to the staff who took care of her during her brief stay at Bayou Pines Care Center, her personal care giver, Kristin Silvas for 3 years of dedicated love and care and Hallmark Hospice.
Visitation will be held on March 23, 2015, Monday from 5:00 to 8:00pm at James Crowder Funeral Home in La Marque. A funeral service will be held on March 24, 2015, Tuesday at 10:00 am with her personal Pastor Rex Teter, officiating. Burial will follow at Hayes Grace Memorial Park in Hitchcock, Texas. Bernice will be buried in the Garden of Gethsemane under the direction of Crowder Funeral Home.
In lieu of flowers, an account has been opened in Honor of Bernice O'Meara for the future needs of her "special" angel here on earth, Anna Lucille O'Meara. Contributions to this account can be made at any Amoco Federal Credit Union, Acct # 1547810 and will remain open for the duration of her life.