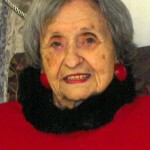 Beatrice Olga Trevino, 87, passed away in Galveston, Texas on Saturday, August 23, 2014. She was born in Sequin, Texas to Gregory and Macedonia Garcia. Beatrice has been a longtime resident of Galveston. She loved flowers, tending to her garden and spending time with family.
Beatrice is preceded in death by her parents; husband Jesse Trevino, brother, Edward Garcia and sisters Dora Ellis and Alicia Chapa. She is survived by her daughter, Gloria Diane Fant; granddaughter Cindy Morrison; great granddaughter Brandy Morrison; brother, Ricky Garcia and numerous nieces and nephews.
A graveside service for Beatrice will be held on Wednesday, August 27, 2014 at 10:00AM at Mt. Olivet Catholic Cemetery in Dickinson, Texas.