Beatrice "ELAINE" Murphree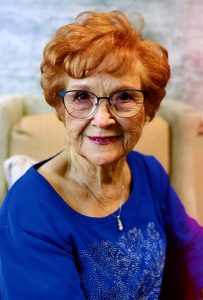 Beatrice "ELAINE" Murphree passed from this life peacefully, surrounded by her family on August 5, 2023. Elaine was the only daughter, born to Willie Beatrice Dial Riddick and Martin Van Burean Riddick in Dyersburg, Tennessee, December 20, 1929.
She is preceded in death by her parents, 5 brothers; her son, Michael D. Smith; step-daughter, Bonnie R. Murphree Danley and stepson, Doyle R. Murphree, Jr.
She is survived by her son, Randall I. Smith (Amy) of St. Amant, Louisiana; her daughters, Corliss Smith Bennett from Santa Fe, Texas and youngest daughter, Marti Murphree Kennedy (Keith) from Alvin, Texas; nine grandchildren, Mary Shaheen, Amber Yokum (John), Erin Menotti, Claire Shaheen (Chris), Beau Smith (Camille), Sylvia Thornton (Trey), Sabrina Noey Tippey (Jeff), Jennifer Murphree, Tyler Kennedy (Val), Austin Kennedy (Kyndal) and Rachel Murphree, seventeen great-grandchildren and many nieces, nephews and friends.
Elaine grew up in a cotton town, Steele, Missouri. She loved to tell the story of out-picking her 5 brothers in the field while dragging her oldest son, Michael on the cotton sack so she could pick her quota for the day. Most of her earnings went to the family.
She left Missouri at 21 years of age and headed for Galveston, Texas with her first husband, Harry Lee "KAT" Smith (deceased). Her first job was as a hostess at the Turf Grill, while working she entered beauty school and graduated. Once getting her license she moved to Hitchcock and opened her own salon business working out of her house. During those 30 years she started buying houses on the mainland and started a residential rental company, with her then husband, Doyle Robert Murphree, Sr. (deceased).
From that point she bought some land, developed, and constructed custom homes in League City. Up until the very end she was still running her business with the help of her daughters and son-in-law.
She was a member of Bay Area Church in League City for 47 years where she was very much a part of the early development. She lead classes, sang in the choir and shared Jesus with most she came in contact with. She was a Past Worthy Matron of The Eastern Star, Hitchcock Chapter.
In her honor, a visitation will be held on Friday, August 11, 2023 from 5:00pm to 8:00pm at Crowder Funeral Home in Dickinson, Texas. A funeral service will be held on Saturday, August 12, 2023 at 10:00am at Bay Area Church in League City. Interment will follow at Forest Park Cemetery in Webster, Texas.
Pallbearers will be Beau Smith, Tyler Kennedy, Austin Kennedy, John Yokum, Kade Smith and Ron Riddick.
She will be missed dearly by her family and all who loved her.